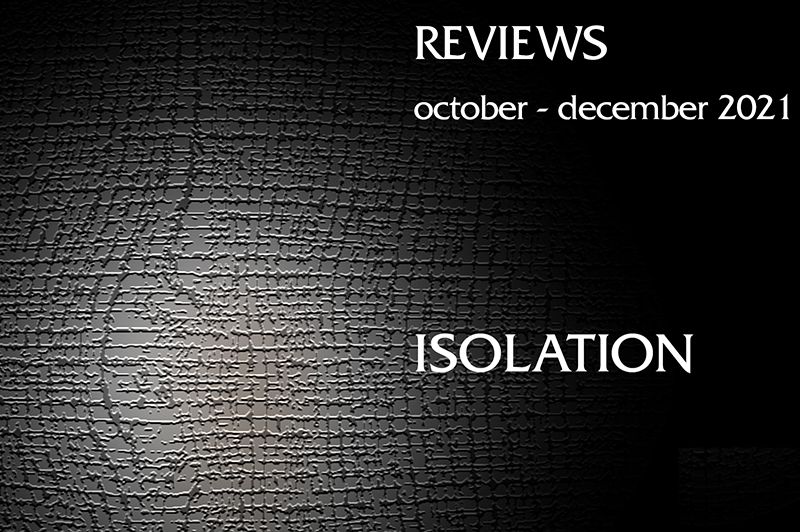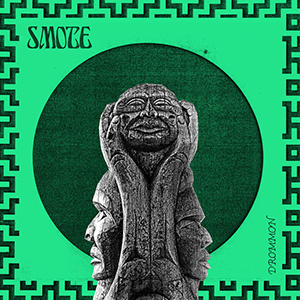 Smote - Drommon
Rocket Recordings
Released: 1st October 2021
After harvesting much praise for his two debut collections on the Weird Beard label, Newcastle-based Daniel Foggin has continued his solo work under the Smote banner with his new album, Drommon, being released by the well-respected psych label, Rocket Recordings, in a most fetching green and black splatter vinyl. Following the lockdown escapism of March's impressive Bodkin, these four tracks show even more confidence and assurity to form a finely-balanced forty-three minutes of music. Based always on repetitive movements, Smote create soundscapes that ache of ancient mysteries, forgotten ceremonies and long-lost ways, enticing you into a dream realm where you are gripped in an iron embrace. The collection is built around the two parts of 'Drommon' which has been available previously as a download, and throws in the new songs, 'Hauberk' and 'Poleyn'. These are the names of two pieces of armour which ties in with Foggin's habit of naming his songs after mediaeval weaponry. The album opens with the sixteen-minute 'Drommon (Part 1)', its opening movement filled with birdsong and a slightly off-centre drone. It bursts into life after some three minutes, adopting an eastern sway that works with the repeating rhythms to enchant and entice. The hymn-like mantra slowly increases in determination as the guitars sing out more powerful conjurations. 'Hauberk' sees flutes herald a mediaeval courtly dance, its rhythmic sway encouraging even the guitars to step into the galliard, while 'Poleyn' is the most evocative track here, church-like organs weaving melodies that sound more charming than devout. Sixteen minutes of 'Drommon (Part 2)' conclude proceedings, waving away the past fripperies as they stride over proceedings with serious faces and muscled limbs. The drone fades more quickly here as guitars buzz all around. There's a stern solidity to its relentless march, which becomes ever more intimidating and commanding. Smote have the ability to draw you into their world where impression weighs more heavily than comprehension. There's darkness there, but also light. There's strength and purpose, but also barely concealed beauty. Most of all, there is unfathomable depth which will either unsettle you or swallow you whole. It's no mean feat to create music in which you can lose all bearings. Embrace it or fall.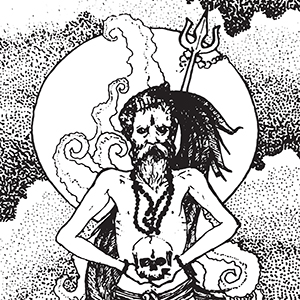 Juju - La Que Sabe
Weird Beard
Released: 22nd October 2021
There are plenty of lions and tigers in the psych world, ready to claw at your ears and leave you a bloody mess. There are also plenty of tions and ligers, ready to fry your brains and make you believe that blue is red and the sky is a giraffe. There is, however, only one Gioele Valenti, who manages both to exist in the realm of psychedelic music, yet remain aloof from it. After releasing the last two Juju albums on Fuzz Club, the Sicilian multi-instrumentalist offers up his fourth collection (not counting the Fuzz Club Session) on Weird Beard and it is another remarkable group of songs that poke a finger in every psychedelic pie, yet never let that tarnish their core purpose as hymn-like mantras. Largely built around rigid bass and drum patterns, Valenti bends guitars, effects and vocals around them, touching them with melodies drawn from a palette of instruments that suddenly appear and quickly disappear after offering whispered suggestions. The songs are welcoming, bordering on spiritual, with Valenti the high priest, or priestess, guiding us towards hidden mysteries. There are hints of secrets to be uncovered, making the whole a path to revelation. The rhythms bring purpose, even occasionally a groove, while the guitars and keyboards add the wonder, lifting the songs into new realms with simple grace, weaving pretty patterns of sound that can lull, soothe and occasionally thrill. There are seven songs here over thirty-eight minutes and each one will grab at your conciousness and urge you to embrace its vision. It's tough to pick standouts, but there's a mystical air that infuses 'Nothing Endures' with its multi-tracked vocal reinforced by some nicely wistful guitars, and 'Could You Believe?' chatters gently as delicate synths soar in the background and guitars conjure shady magic. There's an unmistakable Mediterranean edge to 'Beautiful Mother' which both charms and entices. Gentle and hypnotic, this a collection you need to hear so get in quickly on the Weird Beard
website
when it goes live. The pressing is limited to 250 and half the copies will be accompanying the band on their current European tour so numbers are slim. All copies come with a full colour insert and digital download.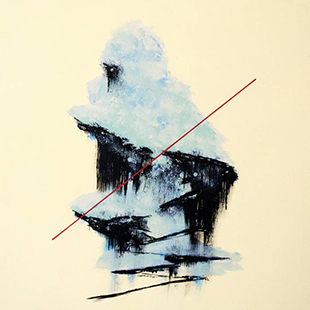 Sunset Images - Traumatismo Nacional
Dirty Filthy / Little Cloud
Released: 16th November 2021
Obscure Daze
(released 2020) saw Mexico City's Sunset Images move into darker territory, adding vocals to the mix as well as adopting a dirtier, heavier sound. Pleasingly, T
raumatismo Nacional
follows in the same vein, or indeed falls even deeper into darkness as Samuel Osorio and his accomplices have produced a howling protest at the state of their nation which they describe as "a sharp and deep wound represented in sound, a scar that we have carried inside for a long time." Mexico, they state, is "a deeply racist, misogynistic, violent and dark nation. People idolize monuments while despising women. The voices of their inhabitants are constantly ignored, and hopelessness has become our natural collective state of mind." The result is an astonishingly powerful and bitter collection of songs that live up to the album's title, "National Trauma". It isn't difficult to work out the English titles of most of the songs and 'Monumento' opens with Alan López's tentative drumming that little prepares you for the onslaught that lies ahead. The beat firms up, a drone descends and guitars buzz spitefully before the whole thing reaches melting point and boils over in a welter of sound with cascading drums, crashing metal, shredding guitars and primal howls of rage. It's pretty bloody fantastic and the mood doesn't lighten with 'Prohibición' which is an all-out attack which punches you repeatedly in the brain. Having seemingly divested himself of his initial rage, Osorio opts to change gear before he does himself a mischief, with Lopez also taking a breather, presumably to have his arms sewn back on. Rod Esquivel takes over on the drums and the resultant 'Merudo' is the high point of the album, more measured and cutting than the blunt trauma that preceded it. Osorio's guitars rake at your brain as they spiral through you and it's just a glorious wash of abrasive sound. 'Anestesia' is the shortest track here, a throbbing drone lit by rasping bursts of guitar filled with unease and doubt, while 'Túnel Hacia el Abismo' ('Tunnel To The Abyss') opens slowly with plenty of drum metal sounding and is achingly sad, the drums playing a death march as the guitars cry and wail. As the protests fade away, 'Voces Oscurecidas' ('Darkened Voices') emerges from the emptiness, riddled with paranoia as hidden whispers fail to cut through a distorted bustle of noise. It's edgy and unable to stay in one place which is truly unsettling. As it shuffles away, closing track 'Caída' ('Drop'), the longest on the album at nine-and-a-half minutes, breaks through, opening to a serenade of warped guitars before an enormous rhythm track crushes it with considerable weight. Osorio's guitar points an accusatory finger as the rage returns, Esquivel drums himself into a coma and the national trauma concludes with a pulsing guitar loop before everyone retires for a well deserved cup of tea. This really is a monster of a record; it doesn't just attack the senses but does so with purpose and carries you away with it. The guitar sounds are glorious and the fury embracing. Absolutely one of the albums of the year. Just buy it.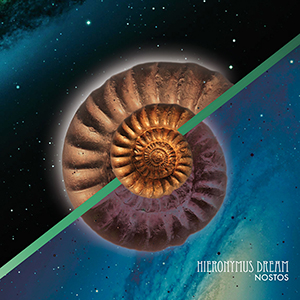 Hieronymous Dream - Nostos
Weird Beard
Released: 19th November 2021
"Nostos" is a theme used in Ancient Greek literature, meaning a "homecoming" or a "homeward journey" and Rhodes-based five-piece, Hieronymous Dream, have used one of the most famous Greek tales, Homer's
Odyssey
, as the theme for their first album proper that follows on from their 2020 Weird Beard cassette release,
Clairvoyance
. The band here use the experiences of Odysseus to reflect on their own journeys through life where they have built experience, faced monsters and overcome obstacles through resilience and struggle. They say that any flaws in the music "are scars left from facing the perils. They are there to remind you that it's not meant to be easy, to accept them in order to grow stronger as people, so that we can reach our goal." In truth, it would be difficult to find many flaws in this music; these are mature and accomplished tunes, bordering on prog, but dipped in just enough space dust to give them a mystic air.
Nostos
is a smooth record that uses stereo well and you won't fail to be impressed at the end of its forty-two minutes by its coherence and construction. 'Odysseus Raft' opens the record gently with lapping guitars that open up more as the song progresses. This is a bit of a theme here as the same occurs on 'The Island Of Lotus Eaters' where prodding rhythms and dabbing keyboards lull us into a false sense of security before more urgent guitars drag us out of blissful forgetfulness and force us to continue with our journey. It's one of the few moments in which the mellifluous mood of the album is shaken as 'Circe's Secret' steps lightly, while 'Scylla and Charybdis' is deceptively beguiling, only the dancing drums hinting at the dilemma of making a choice when trapped between a rock and a hard place. 'Uranometria' is bolder in its approach, picking its way through troubles by the stars, while the closing track 'Land Of Vraltar' is the most other-worldly, bubbling and popping nicely as mellow guitars usher you along, later joined by sympathetic synths. In this neat collection Hieronymous Dream show that dangers can lie concealed in beauty; temptation can tear you apart as much as darkness, so it is important to stay alert however smooth your journey may appear. It's well done. As usual with Weird Beard, the album is limited to just 250 copies and it has been pressed on stunning blue & green starburst vinyl that complements the sleeve art perfectly. Available
here
.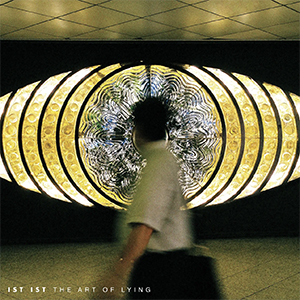 Ist Ist - The Art Of Lying
Kind Violence
Released: 26th November 2021
When we discuss "Lockdown Albums" we do not mean albums that people lived with during their confinement, but records that only exist because of the lockdown: albums that were recorded under duress that would never otherwise have been made at that time or in that manner.
The Art Of Lying
by Ist Ist is exactly that. Having released their long-awaited debut album in May 2020, the band were barely able to play their new songs live as the world closed in on them. For a group who were used to regular rehearsals, finding themselves cut off from each other was a trial, and with most of their equipment out of reach there were further barriers in front of them. So, in an environment alien to them, the quartet began to work on new songs individually, or parts of songs, and by the end of lockdown when they were able to meet up again, they discovered they already had the foundations of a new album. So
The Art Of Lying
was born.
A lot of music created in these circumstances has proved to be pretty extreme. Psychic Lemon's Studio Jams, that replaced their planned fourth album, was pretty vicious. This was music for a world in stasis: heavy, dark, riddled with uncertainty and considerably pissed off. The magnificent Unsemble by TBWNIAS offered up a collection of sounds that beautifully reflected the damage wrought on society by the Covid plague, emerging as disjointed and harrowing as would any album recorded in six different locations by different members of the band as they went into hiding. This was as true a journal of the plague year as you will ever find. Some bands, however, moved in a different direction, opening themselves up to the light and embracing the future with a warming positivity. Perhaps surprisingly, this was the direction taken by Ist Ist. Though known for producing stark, linear music rooted in the monochrome world of post-punk, they softened the edges of their sound and draped it in more colourful hues. At first listen it seems like a massive step in a new direction, though further consideration shows that perhaps not so much has changed other than the band letting down their guard a little. There are intricate patterns of sound on Architecture which are perhaps better concealed due to the solidity of its approach; on The Art Of Lying these are left exposed and unashamed to make of what you will. This is a record that almost invites reproach from those who only see the surface and not the depths for it defies expectation, but for those who noticed the humanity bleeding out of this band's earlier work it is pretty much a treasure trove.
There's a nice irony in making your music more accessible by drenching it in synths, long considered to be dehumanising, but Mat Peters has a lightness of touch that defies generalisations. The album opener 'Listening Through The Walls' is driven by a sad synth refrain that more than echoes Brian Eno, its mood enhanced by gently padding electronic drums. Peters' playing captures the sadness of Low's 'Warszawa' whilst Adam Houghton's restrained vocal is one of his best ever, only deepening the all-encompassing melancholy. There's a similar feel to 'Middle Distance' where Houghton adopts the resigned tones of late Bowie while the keyboards drape everything in regret. Andy Keating's bass appears to stretch to keep everything in place while the late guitars are beaten down before they add too much excitement. The synths again dominate the brilliant 'Extreme Greed' which sounds the closest the band have ever come to completely letting go. Peters drops in layers of sound that are confronted in the outro by annoyed guitars and it's only a shame this is wrapped up so quickly; an extra three minutes' confrontation would have been magnificent. 'Heads On Spikes' again sees the band open up; the bass and guitars drag the waltz out of its staccato rut and hint at endless possibilities for future exploration.
At other times, the guitars are more dominant and we see Ist Ist in Architecture mode. 'Fat Cats Drown In Milk' could happily have lived on that album, and been one of the best tracks on it. Driven on by bloody good drumming from Joel Kay, it surges powerfully through siren guitars and some clever basswork, dipping in and out of urgency and turning unexpected corners before ending up as a powerful rush as Houghton declares, "Do you love me anymore?" Lyrically the album ostensibly confronts the post-truth world in which we now live, but nothing Houghton writes is as direct as it may appear. There isn't a song here that doesn't say "I"; everything is chanelled through a personal perspective as his inner thoughts and emotions leak into every song. It would impossible to try and pick and sort what goes where and he probably couldn't himself, but it's clear that Ist Ist's songs are far from detached observations or wry social commentary. There's mystery at their heart and that is how it should be.
The joy of this band is that they immerse themselves totally in their music and manage to do so with both style and intelligence. Everything matters to them and that is why they should matter to us. The Art Of Lying is a record that shouldn't exist and undoubtedly would have been very different had it run to full term. As it is, it has opened the doors on new horizons and the future will be whatever Ist Ist want it to be.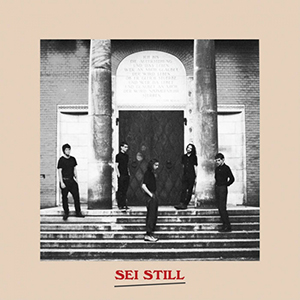 Sei Still - El Refugio
Fuzz Club
Released: 26th November 2021
Sei Still's eponymous debut album, released by Fuzz Club in April 2020, was as near to motorik perfection as you could have wished and quickly became a favourite with psych fans across the globe. With a German bandname and a sound that hinted at distilled essence of Neu! the only surprise was that Sei Still came from Mexico City and not a remote suburb of Düsseldorf. When it was announced that the group had relocated to Berlin and were recording their second album there, it was very much assumed they were immersing themselves in European culture to further connect to the roots of their music. This couldn't have been further from the truth as the five-piece instead took a bold step away from their original hypnotic sound and produced a record that owes as much to Robert Smith as it does to Dinger, Rother and Plank. Perhaps a move to Crawley is on the way next? The motorik rhythms are still there, but the drums have been largely relegated to the background while big, melodic basslines are used to carry the songs along. The vocals are still detached commentaries rather than sung poetry, but across the album the synths woo and the guitars encourage in gentle staccato bursts which very much conjure up pictures of The Cure at their most accessible. It adds warmness and depth to the sound, and though the song arrangements may be relatively sparse, it doesn't detract from the compelling mood that is embracing and empathetic rather than distant and isolated. There are nine tracks here, stretching just over thirty-seven minutes, with only one breaking the five minute mark and this new conciseness can be attributed to the fact that Sei Still are no longer interested in the journey to a new life but the experience of finding it. They are submerged in a new reality and weigh up how it measures against their expectations. The songs touch on "childhood, dreams, desire, loneliness, paranoia and hope ... a longing for a different reality" and this adds the glow of humanity to this collection that was difficult to find on Sei Still with its seven songs relentlessly powering towards the distant horizon. The vocals are all in Spanish which further emphasises the experience of strangers being sheltered in their refuge ("El Refugio") and though the songs are approachable, they do not lack strength, the hopes and fears of the lockdown years all hiding in their midst. It is so difficult to pick highlights here as this album is a complete whole, sharing one collective experience, and it should be enjoyed as such. And you won't find it difficult to enjoy these songs as they are mightily accomplished and alluring. All life is here and it is impossible to listen to this record and not hear it talking of your life. Fuzz Club have certainly found a rare treasure in Sei Still.