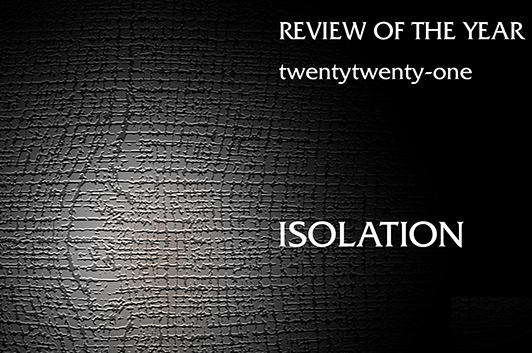 Going Underground
So many blogs and articles have proclaimed 2021 as another great year for alternative music, but we beg to differ. It has been a strange year, a bloody strange year. It has been a difficult year and it has been an unprecedented year. But it has not been great. Yes, there have been a handful of decent albums released and a couple of handfuls of excellent songs, but since the revival in alternative music began nearly a decade ago, this must rank among the weakest of years. Of course this is understandable. The country went into the year locked down and spent many months in stasis and so it was virtually impossible to get into a recording studio. Playing live was non-existent at the start of the year and difficult for the rest of it. Playing abroad was impossible because of Brexit and releasing a vinyl record has proved increasingly troublesome due to a shortage of hardware, qualified technicians and a handful of major labels waving their noted fists.
In fact, it has been a bastard. If you run a small record company the delay in getting an album pressed on to vinyl shot up from three months to around a year. Albums that were recorded and awaiting a release were either put on hold or stuck out in a digital format or cassette with the vinyl promised on the twelfth of never. It has been difficult to work out exactly when an album has been released. Is it the day a download became available, the day the CD emerged or the day the vinyl turned up? When a record is released in three different formats on three different dates it is clear that things are mightily screwed up. At Isolation, we have used the vinyl release day as the true release day, unless the vinyl still hasn't shown up, in which case we have used the day the download first became available. We feel for the excellent Necio Records in Lima, Peru, who were supposed to put out the second album by White Canyon & The 5th Dimension on 2nd April and are still waiting for the vinyl to turn up. It's likely to arrive a year late. And that is not untypical; the smaller labels are being royally screwed while the record shops are full of Adele and Abba and a million fucking copies of Rumours – major labels crushing the opposition, the story that never runs its course. You would have thought the indie bands and labels had enough to deal with with the bloodsucking streaming sites, but no. Hopefully the strength and determination remains to fight on. We certainly hope so.
Given the circumstances, the more lo-fi the band, the easier they will have found things in 2021 and though much work by many artists was put on hold until better times, there were a plethora of releases in the field of jangle pop, much of it recorded in home studios, and some of it truly impressive. Other bands, used to more advanced recording facilities, captured the moment by cobbling together albums recorded on mobile phones and primitive tape recorders, often by band members strewn across the country with no personal contact being made. It has led to some fascinating collages of sound and a genre that will go down in history as "lockdown music". Much of this has been downbeat, bitter or even raging, though a handful of bands turned to a hoped-for brighter future and infused their music with positivity. And just as records weren't made when they were due to be made, some records were made before their time, given that bands were unable to tour and promote their last albums so went straight into writing songs for their next. It will be interesting to hear those that are born late in the coming year just as it has been fascinating to listen to those that emerged prematurely in 2021.
So there have been bright spots, but that doesn't disguise the pain which for many bands and labels goes on. At least live music has returned. It seems that England will not shut down venues again, while Scotland and Wales are edging towards reversing their decisions to close down nightlife. We won't try and judge which course was right and which was wrong (if it was even that cut and dried), but if bands are playing legally then we will go and watch them. And buy some records and some merch.
OK, on to lists. In general we hate them as list journalism is lazy and pointless and became the darling of the music media when it realised it didn't have to pay real writers who could think but just print a whole series of lists and put big pictures everywhere. No wonder the weekly music press died out; it didn't deserve to survive. We didn't want NME and Melody Maker to become Smash Hits. Now we have two monthlies in Mojo and Uncut, neither of which rely on new music to survive but dredge up the dead and dying each month to capture sales. The White Stripes, John Lennon, The Cure, Lana Del Ray, Kate Bush, Paul Weller, Joni Mitchell, Amy Winehouse, David Bowie, Robert Plant, The Beatles and Led Zeppelin were the cover stars for Mojo this year, while Paul McCartney, Neil Young, Leonard Cohen, The Who, The Velvet Underground, Bob Dylan, Prince, Nirvana, The Beatles, Nick Cave, The Rolling Stones and David Bowie featured for Uncut. We're not sure how Lana managed to get on there given that the qualification appears to be over-sixty, dead or split up years ago. Of course, there's nothing wrong with any of those if you are a magazine focussing on the history of music; it's just the pretence that these magazines even care about new music that is so galling. Their album of the year lists are as safe as they can be and in the absence of a rap album saying how crap the country is, they have included Sleaford Mods doing the same just to show they have their fingers on the pulse.
We've included these lists as an alternative. This is the one time of year when music lovers really do take an interest to see if they have overlooked anything vital, so we let you know what we think is worth a listen. This is purely from the heart; we do not have advertisers to keep happy and we are not looking to sell anything. We just think there are albums around that you may well have missed and the bands who have produced them are worth supporting. If you decide our albums of the year are crap then check out the other lists. We believe alternative music lovers will have more joy with those from Rough Trade, Resident and Louder Than Words than the others. Of course, the first two are looking to shift some of their overstocked vinyl, but both establishments have a deep knowledge of multiple genres and tend to fall behind the bands they know will produce the goods. If you used to enjoy getting a Now album for Christmas and you aren't interested in digging any deeper than the surface, then the other lists will serve you well. If you just love list journalism then Mojo has a webpage which contains nothing but lists. You'll never have to think again.
2021 obviously wasn't a typical year in which to assess music consumption. The BPI reported that over a quarter of the population listened to more music during lockdown and of course this had a knock-on affect on sales. The most that can be said is that the prevailing trends of the past few years were reinforced. Music "sales" were up for a sixth year, with the equivalent of 155 million albums being streamed or purchased. There were 139 billion audio streams, up by over a fifth, with nearly two hundred artists streamed over one hundred million times. The most streamed albums were by Olivia Rodrigo, Dua Lipa, Fleetwood Mac, Ed Sheeran and Elton John.
Streaming now accounts for 80% of music "purchases" but vinyl continued its inexorable growth with over five million sales, the highest for thirty years. This was 8% up on the previous year and marked the fourteenth consecutive rise. Records now account for 23% of all physical copies purchased with the best selling albums of the year coming from Abba, Adele, Fleetwood Mac, Ed Sheeran and Amy Winehouse. Alternative music still has a strong presence in vinyl sales with Nirvana and Wolf Alice both featuring in the top ten.
Annoyingly, there was massive growth in another format once considered redundant, the cassette, with a 20% increase in sales seeing more than 190,000 being purchased. That represents the highest number of cassette sales since 2003. Sour, the debut album from US popster Olivia Rodrigo was the biggest selling tape of the year.
The worry for 2022 is that vinyl sales will not be able to maintain their momentum due to the sheer shortage of pressing plants. A lot of independent labels were hit last year by increasing production delays driven by a lack of capacity whilst major labels used their huge financial resources to jump the queues in order to press millions of copies of their generally appalling new offerings. The wait for indie labels grew from three months to six months, then eight and is now pushing a year. Many of them turned to cassettes or CDs just to get new music out there, with vinyl copies promised as and when they could be fitted in. It's a worrying trend for those labels who were largely instrumental in keeping vinyl alive over the lean years of the 1990s and 2000s.
If they are able to get the product out then there is certainly still demand for it. A major study over last year revealed that kids from Generation Z (born 1997 to 2012) buy considerably more records than millennials (1981 to 1996), some 15% of respondents stating that they had recently purchased vinyl. The attraction for this generation appears to be largely the theatre of playing a record and the appeal of not constantly skipping from track to track, but listening to an album as a whole, the way it was always intended to be. The enjoyment of the warmer sound quality of vinyl appears to be of concern only to those of elder generations.
In America, vinyl is now outselling CDs, contributing some two-thirds of the total revenue of physical sales. Record sales in the UK brought in some £86.5 million, an increase of nearly a third on 2020, the highest total since 1990. This is likely to have been helped massively by the lockdown and it shows vinyl revenue overtaking that of CDs for the first time in over thirty years. CD sales were down by 12%, but the decline is now slowing. Some fourteen million discs were purchased in 2021 which still represents nearly three times the number of vinyl LPs sold, and with the crisis at the pressing plants unlikely to ease in 2022, it is certain that more and more labels will re-invest in that format. Of course, CDs are cheaper, more convenient and generally earn the artist more money, so don't be surprised if we begin to see sales rise over the next couple of years.
With the CD having been produced in much smaller numbers in many genres over the past ten years, also don't be surprised to see the value of these rare discs going through the roof in the same way the sparse vinyl pressings of the late 1990s and 2000s did. Even CDs from the peak years of production have a growing worth as they often represent the only way the original masters of albums can be accessed, so many streaming sites now featuring remixes and remasters instead.
The increase in the worth of CDs to the record labels means that the once common practice of including a complimentary CD with a vinyl version of an album is now a thing of the past. This is the second year in which we have not seen one example, with an even more worrying trend now being that albums are released without download codes, so any digital listening has to be done on streaming sites. This, of course, earns the record labels and the artists more money; for most alternative/psych/indie labels and bands this may be just a matter of pence, but it seems that once again money is moving to the forefront of all thinking. Respect to those labels who still issue codes with everything. Remember that virtually everything you buy from Bandcamp will come with a download, so there's all the more reason to buy from that retailer. And two fingers to those alternative labels who have moved away from this practice, especially those who release an album in about ten formats, making devoted fans spend a ridiculous amount of money buying the same product over and over again, yet still deny them a free fucking download. You know who you are.
Back to our albums of the year. It isn't really surprising that there aren't many debut albums there. It must have been so hard for young bands over the past eighteen months to make any sort of impact. We wonder whether any momemtum will be lost or whether there will be a rush of new bands filled with new ideas emerging over the next twelve months. It would be a shame for the flame to flicker when it has been burning so brightly over the last decade. One experience we have had of live music reappearing is witnessing the enthusiasm of the audiences; the sheer joy on the faces of people who can once again stand and watch great music being played directly at them has been marvellous to see. This bodes well. Live music really is something that is hard to beat: it often becomes addictive so distance and difficulty in travelling fade into irrelevamce when a favourite band is playing. For us it has felt like it did when we were teenagers discovering this for the first time.
As always, we would encourage everybody to get involved in music. Tell us what we are missing or what we have under-estimated. If you feel we have got it wrong then write for us pointing out the error of our ways. Start your own blog, start a fan club, open a record shop, form a label, start a band ... just don't sit on your arses moaning. Be good.
Thanks to Gary, Jake and Tracey for their input into our Albums of the Year list. Get well soon, Sue. Big thanks to Stephen Lawrie and Andy Keating for their contributions. Have a year, folks ....
Albums of the Year
Mojo
1. Floating Points - Promises
2. St. Vincent - Daddy's Home
3. Lana Del Rey - Chemtrails Over the Club
4. Low - Hey What
5. Nick Cave & Warren Ellis - Carnage
6. Paul Weller - Fat Pop (Volume 1)
7. The Coral - Coral Island
8. Sons of Kemet - Black To The Future
9. Robert Plant and Alison Krauss - Raise The Roof
10. Villagers - Fever Dreams
11. John Grant - Boy from Michigan
12. The Weather Station - Ignorance
13. Sleaford Mods - Spare Ribs
14. Black Country, New Road - For the first time
15. Dry Cleaning - New Long Leg
16. Manic Street Preachers - Ultra Vivid Lament
17. The War on Drugs - I Don't Live Here Anymore
18. Idles - Crawler
19. David Crosby - For Free
20. Mdou Moctar - Afrique Victime
www.mojo4music.com
Louder Than War
1. Amyl And The Sniffers - Comfort To Me
2. John - Nocturnal Manoeuvres
3. Little Simz - Sometimes I Might Be Introvert
4. The Courettes - Back In Mono
5. Mogwai - As The Love Continues
6. The Stranglers - Dark Matters
7. Sleaford Mods - Spare Ribs
8. Self Esteem - Prioritise Pleasure
9. Cold Water Swimmers - Holiday At The Lake
10. Squid - Bright Green Field
11. Dry Cleaning - Long New Leg
12. Gazelle Twin & NYX - Deep England
13. King Gizzard & The Lizard Wizard - LW
14. Sons Of Kemet - Black To The Future
15. Carol Hodge - This Crippling Space Between
16. Hello Cosmos - Golden Dirt
17. Nick Cave & Warren Ellis - Carnage
18. Idles - Crawler
19. Chihuahua - Violent Architecture
20. Greentea Peng - Man Made
www.louderthanwar.com
Rough Trade
1. Dry Cleaning - New Long Leg
2. Arlo Parks - Collapsed in Sunbeams
3. Little Simz - Sometimes I Might Be Introvert
4. Black Country, New Road - For The First Time
5. Idles - Crawler
6. Squid - Bright Green Field
7. Jane Weaver - Flock
8. Wolf Alice - Blue Weekend
9. Cassandra Jenkins - An Overview on Nature
10. Madlib / Four Tet - Sound Ancestors
11. Weather Station - Ignorance
12. Black Midi - Calvacade
13. For Those I Love - For Those I Love
14. Bicep - Isles
15. Japanese Breakfast - Jubilee
16. St. Vincent - Daddy's Home
17. Courtney Barnett - Things Take Time
18. Mdou Moctar - Afrique Victime
19. Floating Points, Promises
20. Park Hye Jin - Before I Die
www.roughtrade.com
Resident - Brighton Record Shop
1. Dry Cleaning - New Long Leg
2. Black Country, New Road - For The First Time
3. Low - Hey What
4. Little Simz - Sometimes I Might Be Introvert
5. Nick Cave & Warren Ellis - Carnage
6. Floating Points - Promises
7. For Those I Love - For Those I Love
8. Arlo Parks - Collapsed In Sunbeams
9. Idles - Crawler
10. Cassandra Jenkins - An Overview On Nature
www.resident-music.com
NME
1. Sam Fender - Seventeen Going Under
2. Little Simz - Sometimes I Might Be Introvert
3. Wolf Alice - Blue Weekend
4. Self Esteem - Prioritise Pleasure
5. Tyler - the Creator - Call Me If You Get Lost
6. Nick Cave & Warren Ellis - Carnage
7. Arlo Parks - Collapsed In Sunbeams
8. Halsey - If I Cant Have Love - I Want Power
9. Turnstile - Glow On
10. Olivia Rodrigo - Sour
11. For Those I Love - For Those I Love
12. The War On Drugs - I Dont Live Here Anymore
13. Ghetts - Conflict Of Interest
14. Clairo - Sling
15. Billie Eilish - Happier Than Ever
16. Sleaford Mods - Spare Ribs
17. Lana Del Rey - Blue Banisters
18. Dave - Were All Alone In This Together
19. Lorde - Solar Power
20. Lil Nas X - Montero
www.nme.com
BBC 6 Music
1. Little Simz - Sometimes I Might Be Introvert
2. Arlo Parks - Collapsed in Sunbeams
3. Field Music - Flat White Moon
4. Du Blonde - Homecoming
5. Idles - Crawler
6. Jane Weaver - Flock
7. Self Esteem - Prioritise Pleasure
8. Floating Points - Promises
9. Nubya Garcia - Source
10. Tirzah - Colourgrade
www.bbc.co.uk/6music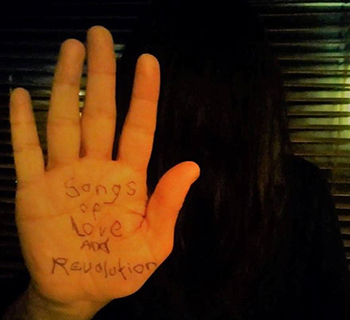 "It's great that Songs Of Love And Revolution made number one. I can't think of much to say about last year other than good riddance. At least we got to do a short tour. And I guess I unleashed a few records, so it was not all bad. All the best for 2022."

Stephen Lawrie, The Telescopes

50. Parquet Courts - Sympathy For Life
49. Desperate Journalist - Maximum Sorrow!
48. Mienakunaru - Lost Bones Of The Holy Butterfly
47. The Third Sound - First Light
46. Sóley - Mother Melancholia
45. Squid - Bright Green Field
44. The Fragiles - On And On
43. John - Nocturnal Manoeuvres
42. Black Honey - Written And Directed
41. Deafheaven - Infinite Granite
40. The Greeting Committee - Dandelion
39. Mt Mountain - Centre
38. Oceanss - Atlantic
37. Wozniak - Bruises
36. Iceage - Seek Shelter
35. Mildred Maude - Sleepover
34. Dinosaur Jr - Sweep It Into Space
33. Shop Window - The State Of Being Human
32. The Umbrellas - The Umbrellas
31. Harry Stafford & Marco Butcher - Bone Architecture
30. Smote - Drommon
29. Catenary Wires - Birling Gap
28. Gruff Rhys - Seeking New Gods
27. The Wedding Present - Locked Down & Stripped Back
26. Little Simz - Sometimes I Might Be Introvert
25. Remember Sports - Like A Stone
24. Black Country, New Road - For The First Time
23. The Cult Of Dom Keller - They Carried The Dead In A U.F.O.
22. Shame - Drunk Tank Pink
21. Mogwai - As The Love Continues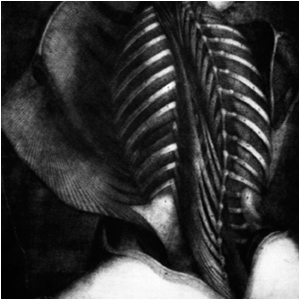 Portugal's Dreamweapon recorded a lot of music in 2020, but they opened 2021 by releasing an album they had made some four years previously, but which had never seen the light of day. Chronologically, it sits between the band's eponymous 2015 debut and 2018's Fuzz Club outing, Sol. Dreamweapon had regarded this as unfinished but we struggle to think why as it it works as both a complete album and a concept, that being the dark spiral down which Dreamweapon slide, eternally doomed to piece together music in the unbreaking gloom. Each song is a joyless mantra with ghostly vocals complaining over swirling drones and repetitive, hypnotic rhythms. It's the repetition that draws you in as it creates the most inclusive music, the brain anticipating notes before they happen thus engaging the imagination. It's how hypnotism works; your mind takes the suggested path and when it does, you are lost. With Dreamweapon you are brought into the bleakest of worlds where all expression is distorted amongst a murky backdrop of noise and it's really rather glorious.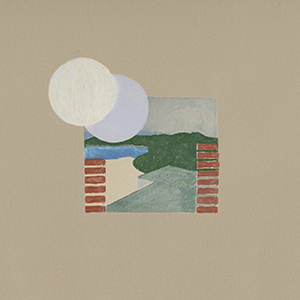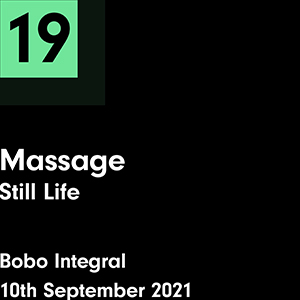 Still Life is a summery record, one that will send you flying back to the days of Subway, Sarah and early Creation, where half the records being released were by shy musicians with floppy fringes baring their souls in jangly pop tunes. Still Life is well titled; it is a moment in time captured forever in one place and offered up for inspection. And that moment in time is obviously 1988. It's not that they ever stopped making records like this, it's just that the state of play made them irrelevant, almost an insult. And though they never stopped making records like this, they very rarely made them this good. And Still Life is good. Its influences are plain to see and Massage make no attempt to pretend otherwise, but the past is there to be borrowed, re-moulded and recycled into something new. It's almost a civic duty. If you know the music of that era, you are not going to be able to stop your mind from connecting to Bands of Jangle Past, but Massage make a lovely job of drawing in their sounds and creating songs that stand in their own right. There's really not a duff moment here and not a song that you couldn't sing along to enjoyably. Alone in your bedroom of course...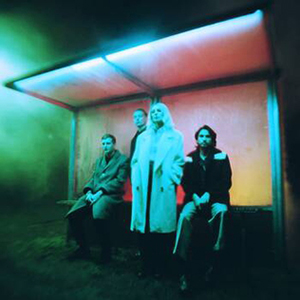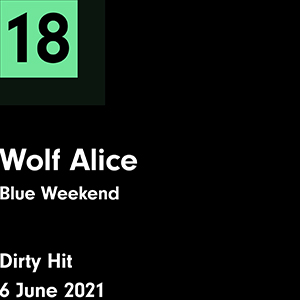 There's something about a certain new crop of indie bands that we find a little disturbing and we often wonder whether it is just our ageing punk values nagging at us, or whether we suffer from some sort of unfathomable bigotry. Wolf Alice are either trying to become all things to all people, or they really are graced with some magic which has allowed them to absorb influences from every shade of the spectrum and present their songs in a highly polished way which will appeal to a large proportion of the population. All the songs here are smooth and different and faultless and stadium-ready. It is difficult not to listen and think, "This is the indie song, this is the R&B song, this is the punk song, this is the country song..." It's like an odd compilation where all of the tunes have quality and are easy to like, but perhaps a little harder to love. This is a good record, no question about it, and there really are some moments that will leave you catching your breath, but it also leaves some nagging doubts.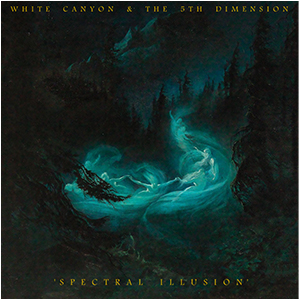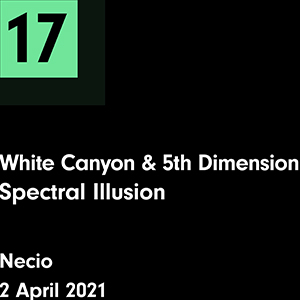 Less than two years on from the release of their splendid debut, White Canyon returned with their second album which was given a darker, more mystical edge without any lessening of the refinement and melodic grace of its predecessor. There is a classical feel to this collection; everything is done so beautifully it is difficult not to surrender to it even if your preference is for the raw rather than the refined. The duo here submerge you into shadowy soundscapes where spirits dance and faded memories whisper. White Canyon are consummate guides as they smooth over the sharp peaks of the highs and cushion the deepest drops to the lows. The band lead us through the softly distorted world of dream psych where vocals breathe and guitars mesmerise. At times we are treated to somnolent shoegaze with the music swelling and pulsing and hinting at eternity. There's power in the words, though they barely break out of the background. They bring reassurance to the unknown and reveal beauty in the darkness that lies all around.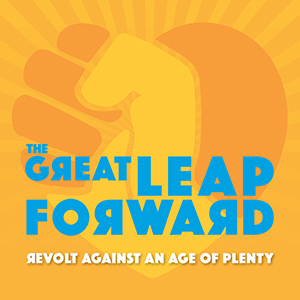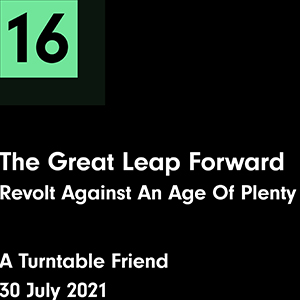 It has been nine years now since we last heard from The Great Leap Forward, ostensibly the solo project of Alan Brown, and the record very much mirrors the style its three predecessors. Brown's music is of a type seldom seen these days, basically spiky new wave with cutting edge lyrics, melodies that will knock you sideways and sampled snippets of speech that tie in nicely with the recurrent themes.
Revolt Against An Age Of Plenty
is exactly what is says, a protest against the selfish nature of society, the corruption of politics and a call to help your fellow man. One sample declares, "Colours don't interest me, or politics. I worry about people," and that is where this album begins and ends. The special thing about these songs is that Brown is able to retain a degree of positivity. For him "giving back is good for you" and offers salvation where trust in politics offers nothing but disappointment. He may be resigned to betrayal and disappointment from those in charge, but there is a much deeper philosophy to embrace where people look out for each other, help those in need and lead the best lives they can. This positivity is reinforced by Brown's music which is both melodic and uplifting.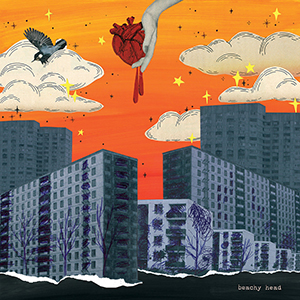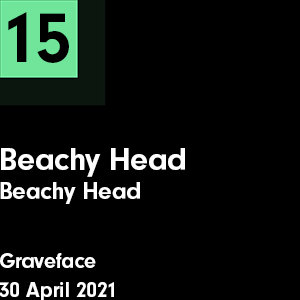 Finding himself with a year off from playing guitar for Slowdive, guitarist Christian Savill began to write and demo some songs of his own with no particular plan in mind. He sent a number of demos to some friends and Beachy Head were formed, the band being named after the Sussex beauty spot where the South Downs meet the sea. With Matt Duckworth of the Flaming Lips contributing on drums, these songs were fleshed out just before the lockdown with the final touches being completed back in the UK with Slowdive bandmate Rachel Goswell adding some vocals. This is not a huge collection of songs and there is nothing here that is startlingly innovative. The lyrics are downbeat and resigned which may explain why the band is named after a notorious suicide spot. "Friends and lovers don't last they just come and go," appears to be the theme, though the joy with this album is that despite its depressing outlook, the songs sound summery and dreamy: a fusion of laid back indie pop and gently wavering layers of shoegaze sound. Pretty indeed.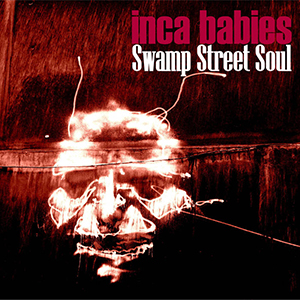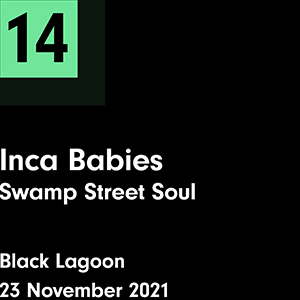 The simple truth of the matter is that bands like the Inca Babies just don't exist any more. Born out of the sonic dislocation of the post-punk era, they came into the world spluttering defiance and bleeding blackness, their music a cascade of razor riffs, pounding drums, uncontrollable bass and shrieking vocals. Now they are older, the primal energy may have waned a little, but their music is just as potent, absorbing blues and jazz influences as it drags itself along the gutters in the seediest parts of town, noting the broken lives and contaminated souls it passes on the way. The Incas' music may be crisply recorded, but it still manages to embrace the dirtiest of tones, with the dubbed wail of Kevin Davy's trumpet adding another maudlin dimension to their repertoire. Swamp Street Soul is well titled as we are dragged through swamp blues laments, dirty jazz serenades and even broken surf rock, sweeping along on a wave of cheap bourbon. As for the soul, it was long pawned away and the ticket lost.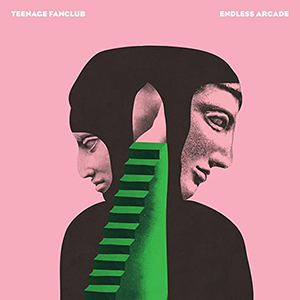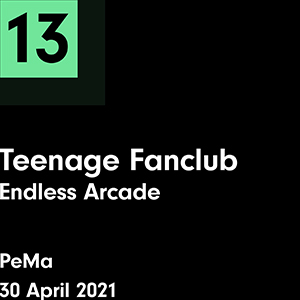 Teenage Fanclub have never been party people, but there is usually some light and hope in their songs. In Endless Arcade this is more difficult to find, though there are undoubtedly moments where everything becomes right with the world. Unusually most of the joy is dispensed with early on, the album opening with a seven minute blast of positivity where it appears the band are enjoying themselves so much they don't want it to end. This counterbalances later complaints about the sky being grey and laments that "Winter is coming." As usual, Ray's songs open outwardly and Norman's inwardly, but sorrow and darkness abound in each direction; it really is only the beauty of the music that makes the collection a lighter load to bear. At times the melodies are so delicate you feel they will run off and tell their mum if any harsh words are uttered against them. It's a balancing act, brittleness weighed against melancholy. A bit of a strange one, this, but it was always going to be after the loss of Gerard Love. Change hurts, but the world is a better place for Teenage Fanclub, hurt or otherwise.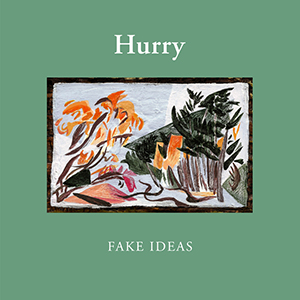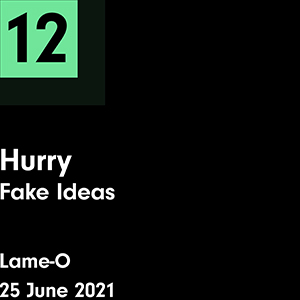 Sometimes an album comes along and simply knocks you off your feet because it is so damn near perfection. It doesn't happen very often but when it does it really is a moment to savour. Fake ideas is a collection of warm indie guitar pop and Hurry's ability to do the simple things well lifts this ten-track offering into a higher plane. There is just an easiness about everything they do, an obvious mastery of melody and exemplary decision-making. You'll struggle to find a note out of place, a guitar line that doesn't do the right thing at the right time and a song that doesn't ache in sufficient measure. It really is quite beautiful and a resounding success for Matt Scottoline who decided to adopt a "back to basics" approach with both his songwriting and instrumentation. Who can argue with shimmering, jangling guitars, easy rhythms and earnest vocals that dwell on both love and the singer's struggles with anxiety? It makes the lyrics honest and open; navigating life is a struggle we all face and Scottoline's words are embracing rather than defensive.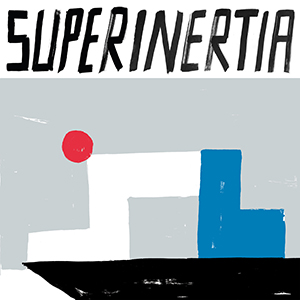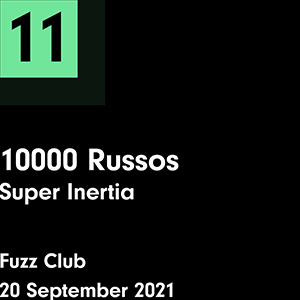 The first surprise when confronted with 10,000 Russos' fourth album for Fuzz Club is the cover. It is free-form, contains colour and is about as far away from the band's established image as it is possible to be. The second surprise is that the music it contains is equally colourful and even open to change. The Portuguese trio built their reputation by releasing music that is monolithic and unyielding; everything bent to their will with resistance crushed by the immense power of their sound. Now there are sparkles in the darkness as the band enter arenas you never thought they would find. They haven't turned into Bucks Fizz, but they appear to have discovered a lightness of touch, even a joy in joining the dots of light that are strewn across these new songs. There are only five of them here, spread over forty-one minutes, and though they are still driven by firm, motorik rhythms, they are expansive rather than hemmed in, opening up like a flower catching the first rays of the sun.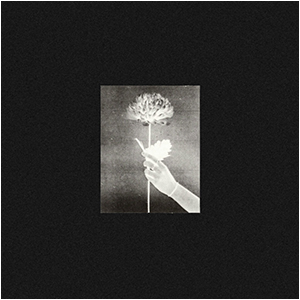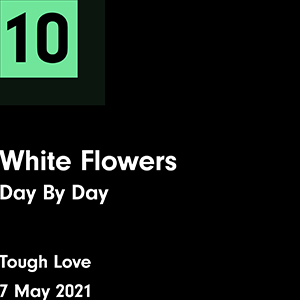 As any good goth knows, beauty can only be found in the darkness and White Flowers' quest to unearth treasure in a bleak arena is pretty much a theme on Day By Day, inspired as it is by Joey Cobb and Katie Drew's move back to their native Preston after studying at art college in London. Their music mirrors the post-industrial bleakness of the north which they were rediscovering, and finds inspiration from the post-punk music this spawned, yet with wider influences also at work. Drew's vocals have the substance to subjegate everything around them. The thickness of the woozy soundtracks is no barrier as her voice rises and falls with assured grace, cutting through any restraints. They can be inordinately pretty; the contrast between voice and music mirroring the band's adopted monochrome imagery, the white against the black. Here atmosphere is more important than notes; all of the songs work to create a mood that wavers from uncertainty, to resignation, and resolve. And in draping beauty on ashes there is the constant feeling that escapism lies at its very heart.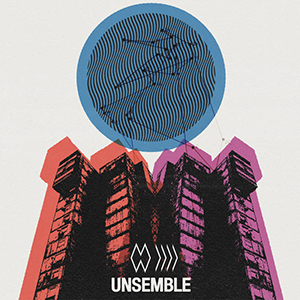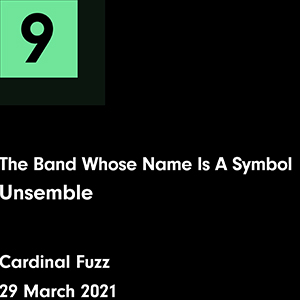 Music of the Pandemic. It's going to go down in history as a particular genre and a bloody fascinating one at that. It was so interesting last year to see how the albums being released reflected the times: many of them were downbeat, doomy and pessimistic; some were wildly escapist and fantastic; a few bands even carried on as if nothing was happening. TBWNIAS's Unsemble will undoubtedly come to be considered as one of the more esoteric offerings from the crisis; a collection of sounds that reflect beautifully the destruction wrought on society by the COVID plague, emerging as disjointed and harrowing as would any album recorded in six different locations by different members of the band as they went into hiding between March and April 2020. The tracks largely stem from a seven minute drum onslaught recorded by John Westhaver on an Android phone to which each member of the band added their own contributions with whatever recording equipment they could lay their hands on. The result is an intriguing collision of ideas in sound. Smothered freeform jazz battles with disassembled rock and all manner of gloriously incoherent musical structures. You won't find a better half an hour that serves as a dairy for the year of lockdown.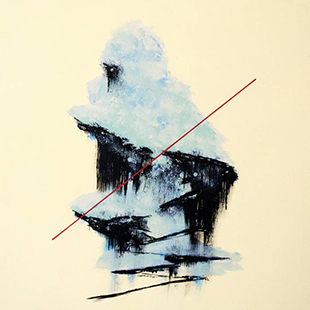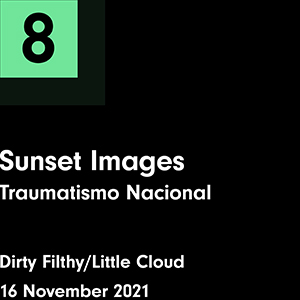 Traumatismo Nacional sees Sunset Images fall even deeper into the darkness as Samuel Osorio and his accomplices produce a howling protest at the state of their nation, Mexico, which they describe as "a sharp and deep wound represented in sound, a scar that we have carried inside for a long time." The result is an astonishingly powerful and bitter collection of songs that live up to the album's title, "National Trauma". Full of heavy drones, spiteful guitars, cascading drums and crashing metal, the dark mood rarely lightens as the songs range from those that punch you repeatedly in the brain to quieter moments which emerge from the emptiness, riddled with paranoia, to whisper through a distorted bustle of noise. There's an edginess here that leaves the music unable to stay in one place which can be truly unsettling. At their best SI let their guitars rake at your brain as they spiral through in a glorious wash of abrasive sound and it's simply spellbinding. This really is a monster of a record; it doesn't just attack the senses but does so with purpose and carries you away with it.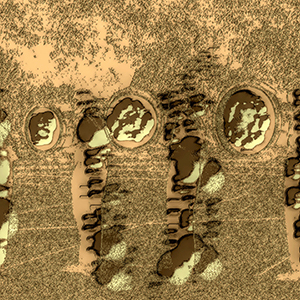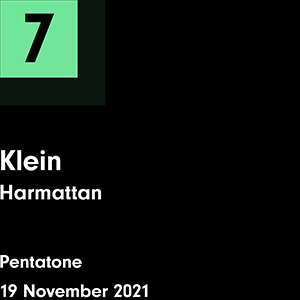 Following on from 2020's brilliant Frozen, this has been a busy year for South London's avant-garde composer Klein. March saw her release Now That's What I Call R&B, described by herself as "quik rnb toplines for 2021" and this was followed by November's album Harmattan, impressively released by Holland's prestigious classical music label, Pentatone. Just as her earlier works dissected the essence of R&B, so here Klein deconstructs the classical genre, laying bare its bones and looking to find meaning there in the current age. Harmattan is a season in West Africa characterised by dry and dusty north-easterly winds that blow over from the Sahara from November to March, often limiting visibility and occasionally blocking out the sun for days on end. This collection is an attempt to get a clearer vision; a tale of growth as well as exploration laid out in Klein's unique style. Originally intended to be recorded with an orchestra, lockdown again played its part leaving the composer to complete the sessions largely on her own. From jazz piano improvisations to ambient hums and a dislocated vocal from Charlotte Church, this is a mesmerising experiment.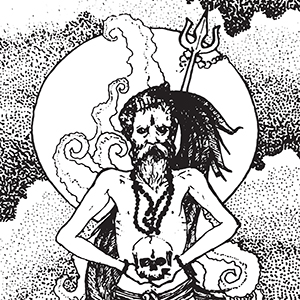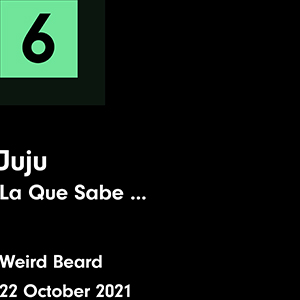 There are plenty of lions and tigers in the psych world, ready to claw at your ears and leave you a bloody mess. There are also plenty of tions and ligers, ready to fry your brains and make you believe that blue is red and the sky is a giraffe. There is, however, only one Gioele Valenti, who manages both to exist in the realm of psychedelic music, yet remain aloof from it. The Sicilian multi-instrumentalist's fourth collection is another remarkable group of songs that poke a finger in every psychedelic pie, yet never let that tarnish their core purpose as hymn-like mantras. Largely built around rigid bass and drum patterns, Valenti bends guitars, effects and vocals around them, touching them with melodies drawn from a palette of instruments that suddenly appear and quickly disappear after offering whispered suggestions. The songs are welcoming, bordering on spiritual, with Valenti the high priest, or priestess, guiding us towards hidden mysteries. There are hints of secrets to be uncovered, making the whole a path to revelation. The rhythms bring purpose, even occasionally a groove, while the guitars and keyboards add the wonder, lifting the songs into new realms with simple grace, weaving pretty patterns of sound that can lull, soothe and occasionally thrill. Gentle and hypnotic.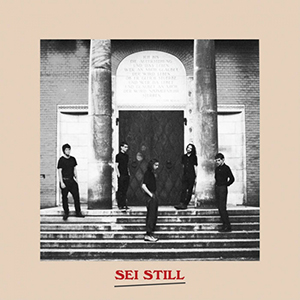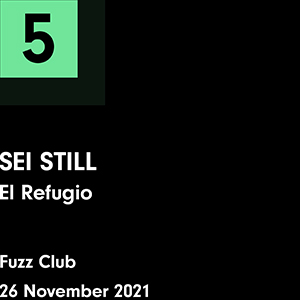 Sei Still's eponymous debut album was as near to motorik perfection as you could have wished. With a German bandname and a sound that hinted at distilled essence of Neu! the only surprise was that Sei Still came from Mexico City and not a remote suburb of Düsseldorf. When it was announced the group had relocated to Berlin it was very much assumed they were immersing themselves in European culture to further connect to the roots of their music. This couldn't have been further from the truth as the five-piece instead took a bold step away from their original hypnotic sound to produce a record that owes as much to Robert Smith as it does to Dinger, Rother and Plank. The motorik rhythms are still there, but the drums have been largely relegated to the background while big, melodic basslines are used to carry the songs along. The vocals are still detached commentaries, but across the album the synths woo and the guitars encourage in gentle staccato bursts which very much conjure up pictures of The Cure at their most accessible. It adds warmness and depth to the sound, and though the song arrangements may be relatively sparse, it doesn't detract from the compelling mood that is embracing and empathetic rather than distant and isolated.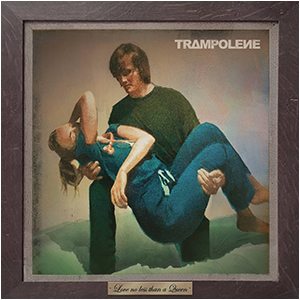 Another record completed during the hell of the plague year, the most remarkable feature of this collection is in noting just how much the band developed through the dark months. Lockdown albums have generally tended towards anger and bitterness, though Trampolene appear to have moved in the opposite direction, LNLTAQ being less confrontational and more emotionally open than its predecessors, even at times bordering on the vulnerable. Chopping guitar anthems have made way for fatter, more melodic songs that possess an endearing fragility without any lessening of the keen intelligence that lies at the heart of everything they do. Strikingly, this is a collection of songs that is infused with a love that is almost overwhelming: a love for individuals, a love for life; a love that swamps hardship and injustice and embraces everyone who can share the vision. It is so positive and envigorating, yet so rooted. Trampolene are romantics and a true romantic is one who recognises the darkness but doesn't shy from it, one who embraces all existence with a fervour that is contagious. This is not the time for war; it is the time for hope and perseverance and, fuck it, love.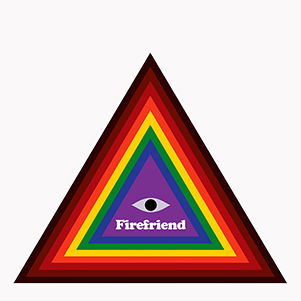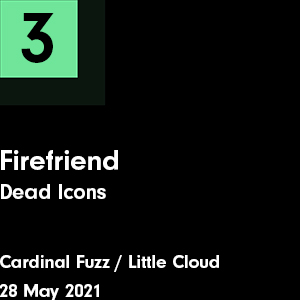 Dead Icons is the sixth collection from Sao Paulo's Firefriend and another one that enhances their deserved reputation for producing music that is increasingly exploratory and seductive. This record contains some of their darkest, strongest and most memorable sounds to date and these glide past you so smoothly you don't even realise they are simultaneously setting off all sorts of triggers in your brain that will draw out an emotional response. That's a fantastic weapon to have in your armoury as you can press your point without seeming to try, and when you are part of the underground resistance battling against the darkness that inflicts society, Firefriend are a very potent ally to have. Never has subversion sounded so sweet. The songs on Dead Icons are built around the gently repeating rhythms of drummer Caca Amaral on which are draped delicate patterns of guitars that chatter and chide, often injected with a fuzziness that softens without losing too much harmonic edge. Vocals from guitarist Yury Hermuche are earnest and queryring, while those of bassist Julia Grassetti are softer, sometimes barely more than whispers, accompanied by waves of vibrating sound that wash over everything to create some authentic shoegaze soundscapes. There are moments here that simply leave you breathless with gorgeous guitars leaking out on all sides, and capturing the prettiest patterns. There's not a song here that doesn't fit and not a moment when you are not carried along with the flow.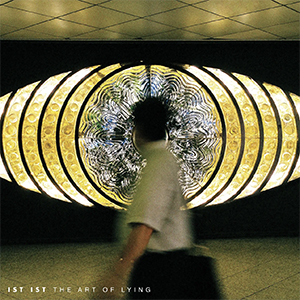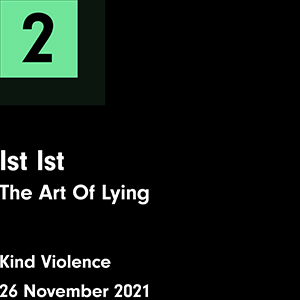 A lot of music created in the lockdown has proved to be pretty extreme; music for a world in stasis: heavy, dark, riddled with uncertainty and considerably pissed off. Some bands, however, moved in a different direction, opening themselves up to the light and embracing the future with a warming positivity. This was the direction taken by Ist Ist. Though known for producing stark, linear music rooted in the monochrome world of post-punk, they softened the edges of their sound and draped it in more colourful hues. At first listen it seems like a massive step in a new direction, though further consideration shows that perhaps not so much has changed other than the band letting down their guard a little. There are intricate patterns of sound on Architecture which are perhaps better concealed due to the solidity of its approach; on The Art Of Lying these are left exposed and unashamed to make of what you will. This is a record that almost invites reproach from those who only see the surface and not the depths for it defies expectation, but for those who noticed the humanity bleeding out of this band's earlier work it is pretty much a treasure trove.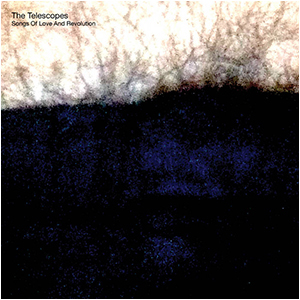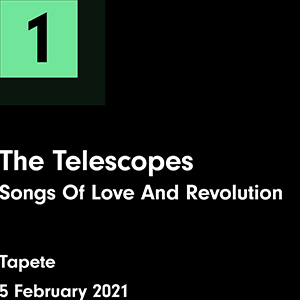 This is a beautifully constructed record as the dichotomy that lies at its heart is built into the construction of every song. All eight hover around the four to five-minute mark and are shaped the same way. A short bassline is looped throughout, along with a simple, one-hand drumbeat which never alters. This creates a constant that runs through the whole; every track given a solid foundation that speaks of immovability and power. It means that anything else that is added can only be surface-deep for against such certainty no force can ever really threaten.
What, then, can revolution alter? What can love change? The backdrop is set, the world unbending, everything else is merely fleeting. Including life. Lawrie acknowledges this, "When the roll you're on, has gone, this train will keep on rolling on." The question he faces is whether this negates his emotions. He is in love and swamped by these strange waves, "all encompassing in all they bring." They will ultimately fade, but the question becomes whether it is the very transience of love that makes it so important: the flashing lights on the surface that captivate and enthrall for however brief a moment in time, the splashes of colour that make you forget the blackness at the heart of all things. "There is no shore in this life," he convinces himself, "There is only the wave."
Deep down at the roots, he knows nothing will alter, "The ground will keep on holding, holding, holding..." The unshakeable rhythms are the roots. Above them Lawrie weighs up hope against certainty; his voice sometimes virtually indistinguishable, occasionally a plaintive whisper, sometimes more. The guitars create the waves, they leave us mesmerised and thrilled and ready to fight. They shape the beauty of the souls that are engulfed in the waves which tell them that life matters, not the certainty of a doomed existence. Love is not rooted, so fight for the moment. "Living is dreaming of living. Nothing seems how it should seem."
Heavily distorted, guitars screech and buzz and flow as they wash over the relentless beats, creating patterns that are occasionally breathtaking in their raw beauty. There's hope in their defiance as they make their mark against every background. They throw themselves against the relentless march of time and dance delicately around hypnotic calls to surrender. They hammer and shriek and whisper and entrance. There may be ultimate defeat, but it was one hell of a ride.