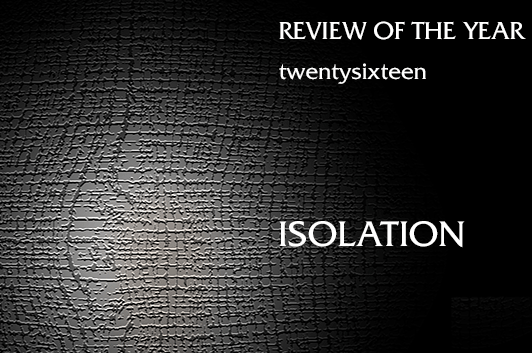 Mainly Dead People
2016 was a pretty successful year for alternative music. There was more to enjoy, and a greater depth of quality, than over the past two years, though the twelve-month stretch didn't quite manage to scale the breathless heights of 2013 which is starting to become something of a benchmark in quality. Finally, some of the artists who impressed us so much in that momentous year released follow-up records – Ghost Outfit, Money, Savages and Nick Cave – but only a handful of last year's top twenty released new recordings and respect to Wire, The Pop Group and Preoccupations (formerly Viet Cong) for proving that talent doesn't blossom only every three or four years.
The renaissance in alternative music pleasingly continued to flourish, though it was easy to be distracted from the quality of the music on offer by events in mainstream-land where everybody appeared to die. We have always been pretty cynical about mass displays of grief when celebrities pass away and the words of Phillip Goodhand-Tait sprang to mind so often that we might well have left his sixth solo album on replay ... "A star died today / And they had a little street parade / And all the other stars turned out / To say how nice he'd been." Yet we are not churlish enough to imagine that important artists should pass entirely without comment or recognition. Indeed, it was the first year ever that two of our real heroes were taken, so briefly...
David Bowie changed everything, turning youngsters with a deep interest in music into helpless obsessives. We have always held Ziggy Stardust to be one of the greatest five albums ever released and no artist in history has ever produced work of such consistent quality as Bowie did between 1969 and 1980 when he put out a bewilderingly good album every year (people), as well as two double live albums and an album of cover versions. It's a staggering achievement and we doubt it will ever be matched. We held the man in such regard that the 1980s were painful to endure as the master decided money was more welcome than credibility and recorded albums of such paper-thin worth that we pretended we had never heard of him. Money in the bank, the man decided that credibility was once more on the agenda and though the quality of his output improved (and let's face it, it couldn't have got any worse), he never once managed to match the heights of his glory years. He became comfortable within himself without feeling the need to create new voices and his vocals became rather repetitive, all the last albums rolling into one for us. Of course, Blackstar appeared two days before Bowie's death on 10th January 2016 and it is reaping many album of the year awards. Would it have done so had the singer not died? It's probably an overestimation of the record's inherent strength, though Blackstar is a decent and brave piece of work from an artist who knew he was very ill and we are so pleased Bowie went out with fitting style and grace. The news of his death came like a punch in the face despite thirty-six years of pain, moody disappointment, crushed hopes and pretended indifference. After all, he gave us twelve years of unparalleled brilliance, and not many achieve that.
Regular readers will know how highly we rate Mott The Hoople, the greatest ever British rock band, ludicrously influential in the world of punk and alternative music. Sadly January also saw the passing of Dale Griffin ('Buffin') the band's drummer who had been suffering from early-onset alzheimers for some years. Griffin had a particular drumming style that added to the incredible power of Mott's live performances, and was described thus by bandmate Morgan Fisher, "Buffin, as far as I'm concerned, was one of the best British drummers. He was unique and powerful, and had a way of delaying the snare just behind the beat which made the whole thing bigger and gave it more tension." After ending his playing career Buffin became a producer and worked on many John Peel sessions; all of our friends who worked with him on these describe him similarly as grumpy but brilliant, considerably adding to the quality of their music. We were so happy to see Buffin playing live five times at the Mott reunions in 2009 and we will love him forever.
Back to our review, if there is any need to worry about the currently healthy state of the indie world, it is that not many new bands came through with stunning debut albums. Last year seven debuts made it into our top twenty, this year it is just two. There was also a lack of old bands re-emerging with top new work. There were, however, fine new offerings from Radiohead and Kristin Hersh, who had not put out albums for over five years, and The Wedding Present unveiled their most impressive record for many years. Suede also had a great 2016, playing some magical live shows and releasing one of their strongest ever records in the operatic Night Thoughts. There was less news about old bands reforming (probably as most of them already have done so), though the Lush reunion proved to be a short-lived affair as the band called it a day again after one new EP and a tour barely a year on from getting back together.
Alternative music and vinyl appear to go hand in hand and a large part of the recent revival in vinyl sales must owe a great deal of thanks to the independent labels and their supporters who refused to let the format die. Over 3.2 million records were sold in 2016, a twenty-five year high, and the format is now outselling that of the digital download which is predicted to go the same way as the eight-track cartridge. Audio streaming is by far and away the most popular form of listening to music, and it is suggested that this is now aiding the vinyl revival as it has massively boosted musical discovery among young people. We feel the resurgence in the popularity of vinyl will be cemented if companies start to build pressing plants in the UK again; we wait in anticipation.
If there is a downside to the vinyl boom, it appears to be that labels are no longer giving away CD copies with vinyl albums. This looked as though it was becoming the norm a handful of years ago, but now a download code appears to be as far as anyone is prepared to go. We assume the CD giveaways were aimed at older punters who liked to buy vinyl but weren't so keen on playing it, so in some ways it may be a good sign if the change is due to an emerging younger market. But it was something we particularly liked as we often buy both CD and vinyl copies of albums for different venues (car etc). There wasn't a single album we bought this year that came with a free CD, though all came with download codes, better than some purchases of last year which were shockingly vinyl only.
As mentioned above, there haven't been a slew of new bands emerging this year so here's hoping 2017 will see a fresh wave of fine new talent. The year should see the debut album from Slow Riot for which we are eagerly waiting, and the Spectres album due in March is promised to be harder than their debut, which is staggering proposition. Interesting prospects are new music from reunited shoegaze veterans Ride and Slowdive and hopefully they will add some contemporary twists to the anticipated hazy soundscapes. It has been nineteen years since we last heard a new album from The Jesus & Mary Chain so we are looking forward greatly to their promised March offering. Will 2017 finally see the release of the third album by The Fauns? We are promised this may well be the case, so here's hoping. Whatever else is on the cards is unknown but we are looking for some major surprises, plenty of innovation and the emergence of bands who are unafraid to kick boundaries into touch.
The music press remains largely stagnant, though much applause to Louder Than War who are the only print publication remaining to focus solely on alternative music. The magazine, which is a fine read, complements the website of the same name which is pretty much essential for lovers of indie music, though it could sharpen its focus a little and spend more time correcting the masses of typos and spelling mistakes. Vive Le Rock casts its eye over the punk scene, and though it is not as well put together as LTW, and a little too nostalgic, it is still worth a browse. We are including Louder Than War's albums of the year in our listings on this page now and will drop NME's after this year as the magazine as it is now (NMFree) makes no pretence of supporting alternative music which clearly isn't sponsor-friendly.
We imagine the main problem facing the glossy monthlies is whether their readers will drop dead before their favourite artists. Both Uncut and Mojo failed to include anybody under one hundred and thirty-seven in their albums of the year lists and surely they are painting themselves into a corner. Will they survive on pure nostalgia when there is nobody left to interview? And why – if they are correct in awarding at least eight of ten to hundreds of new albums a year – do they not change their focus to new music when the scene in their eyes is so obviously flourishing? Bah! We must grumble now about awarding marks to records in reviews. At best it is mindless and lazy. At worst it is a cynical marketing ploy. If you can't understand how good a record is from reading a review then that review must be appallingly written. And if you are not reading the review but just going by the mark, then you won't be reading this. Let's get real. No record can be worth ten out of ten. Even the greatest records ever made can only warrant nine point something. Only astonishing records can be worthy of a nine and bloody excellent ones an eight. Virtually all of the records awarded eights, nines and tens by the glossy monthlies probably deserve no more than fives or sixes in the real world. But would fives and sixes help sell records put out by the people who advertise in the magazine? Nope. Don't be led to tax-avoiding retailers by obvious marketing ploys. Read a review, listen to the music (which will undoubtedly be available to hear somewhere on-line) and then buy it if it moves you. We live in an age where everything is labelled with superlatives, pushed into pigeon-holes, and shaped by corporations for an easy sell. Don't feed into this. We will not treat music as a commodity.
Cue the ever relevant 'Public Image'...
Having relocated to the far side of the moon (or so it seems here in north-west Wales), the internet remains a good place to stay in touch with indie-minded colleagues. Music journalism is thriving on the web and (as we keep emphasising) there are a host of admirable sites and blogs with a focus on alternative music. There are also a myriad of decent podcasts reflecting every shade of the multi-faceted alternative scene. We are still talking about how to shape our own (in the company of Mr Harry Stafford - look out for news on that soon), which is largely being driven by disappointment in the quality of 6 Music these days. We would say there is one vital link that helps to tie in different strands of the alternative music culture (linking bloggers, musicians, broadcasters and individuals in a positive way) and that is Steve Williamson's Everything Indie Over 40 . Take a glance at their Twitter feed or their Facebook page and you will discover a mass of great writing and listening from those keen to interconnect and build. Please investigate, read, listen and encourage. Even better, do something yourself to keep the flame burning. Our music is not nostalgia, it is a living thing and crucial in the disposable, corporate cesspit of a world into which we are being inexorably dragged. Let's make a stand for quality, bravery, adventure and individuality.
The following list is the only one we ever make and it gives us the hump, as we hate lists (see last year's rant...chiz). It does, however, give a good view of the records released over the year that we thought were important, records we would like everybody to listen to even if they don't rush out and buy them. There's a wide range of styles featured from a wide range of artists and we feel these releases are worth noting, being ones that demonstrate ambition, suss and daring. Or just naked, unquenchable spirit. The list also works as a thank you to all those who have contributed to Isolation over the year namely Adam (myself), Gary, Guy and Sue. Of course we would rather you read our monthly reviews and gave a listen to anything we raved about and made your own minds up. And we hope that you will tell us about anything we miss. 2017, may it bloom.
Albums of the Year
Mojo
1. David Bowie – Blackstar
2. Michael Kiwanuka – Love & Hate
3. Nick Cave & The Bad Seeds – Skeleton Tree
4. Lambchop – Flotus
5. Leonard Cohen – You Want It Darker
6. Iggy Pop – Post Pop Depression
7. Frank Ocean – Blonde
8. Paul Simon – Stranger To Stranger
9. PJ Harvey – The Hope Six Demolition Project
10. Heron Oblivion – Heron Oblivion
11. Radiohead – A Moon Shaped Pool
12. Beyonce – Lemonade
13. Teenage Fanclub – Here
14. Charles Bradley – Changes
15. The Cult – Hidden City
16. Bon Iver – 22, A Million
17. Dinosaur Jr – Give A Glimpse Of What Yer Not
18. Syd Arthur – Apricity
19. Modern Studies – Swell To Great
20. Bob Dylan – Fallen Angels
www.mojo4music.com
New Musical Express
1. The 1975 - I Like It When You Sleep...
2. Kanye West - The Life Of Pablo
3. Christine & The Queens – Chaleur Humaine
4. Skepta - Konnichiwa
5. Kaytranada – 99.9%
6. David Bowie - Blackstar
7. Diiv - Is The Is Are
8. Iggy Pop - Post Pop Depression
9. Chance The Rapper - Coloring Book
10. Frank Ocean - Blond
11. Beyonce - Lemonade
12. Sunflower Bean - Human Ceremony
13. Angel Olsen - My Woman
14. Jamie T - Trick
15. Kano - Made In The Manor
16. Danny Brown - Atrocity Exhibition
17. Drake - Views
18. Tegan And Sara - Love You To Death
19. White - Lung Paradise
20. Lady Gaga - Joanne
www.nme.com
Louder Than War
1. David Bowie - Blackstar
2. Meilyr Jones - 2013
3. Savages - Adore Life
4. Radiohead - A Moon Shaped Pool
5. Anohni - Hopelessness
6. Fat White Family - Songs For Our Mothers
7. Nick Cave - Skeleton Tree
8. PJ Harvey - The Hope Six Demolition Project
9. Deux Furieuses - Tracks of Wire
10. Wire - Nocturnal Koreans
11. Factory Floor - 25 25
12. Leonard Cohen - You Want It Darker
13. Skepta - Konnichiwa
14. Iggy Pop - Post Pop Depression
15. Beyonce - Lemonade
16. Martha - Blisters In The Pit Of My Heart
17. Swans - The Glowing Man
18. Let's Eat Grandma - I, Gemini
19. The Anchoress - Confessions of a Novelist
20. Kanye West - The Life of Pablo
www.louderthanwar.com
Rough Trade
1. Iggy Pop - Post Pop Depression
2. Anderson .Paak - Malibu
3. Margo Price - Midwest Farmer's Daughter
4. Mark Pritchard - Under the Sun
5. Charles Bradley - Changes
6. Anohni - Hopelessness
7. Thee Oh Sees - A Weird Exits
8. Angel Olsen - My Woman
9. Powell - Sport
10. Car Seat Headrest -Teens of Denial
11. Nick Cave - Skeleton Tree
12. Radiohead - A Moon Shaped Pool
13. Tindersticks - The Waiting Room
14. David Bowie - Blackstar
15. D D Dumbo - Utopia Defeated
16. Hinds - Leave Me Alone
17. Unloved - Guilty Of Love
18. Cavern Of Anti-Matter - Void Beats/Invocation
19. Black Mountain - IV
20. Beyond The Wizards Sleeve - The Soft Bounce
www.roughtrade.com
Resident - Brighton Record Shop
1. Nick Cave - Skeleton Tree
2. Radiohead - A Moon Shaped Pool
3. David Bowie - Blackstar
4. Michael Kiwanuka - Love & Hate
5. Agnes Obel - Citizen Of Glass
6. Underworld - Barbara Barbara
7. Julia Jacklin - Don't Let The Kids Win
8. Josefin Öhrn - Mirage
9. Thee Oh Sees - A Weird Exits
10. Christine & The Queens - Chaleur Humaine
11. Bon Iver - 22, A Million
12. Iggy Pop - Post Pop Depression
13. Damien Jurado - Vision Of Us On The Land
14. Steve Gunn - Eyes On The Lines
15. Savages - Adore Life
16. Cavern Of Anti-Matter - Void Beats/Invocation
17. Throw Down Bones - Throw Down Bones
18. Car Seat Headrest - Teens Of Denial
19. Ulrika Spacek - The Album Paranoia
20. Haley Bonar - Impossible Dream
www.resident-music.com
Isolation - 2015
1. Girl Band - Holding Hands With Jamie
2. Spectres - Dying
3. Sauna Youth - Distractions
4. Wire - Wire
5. Institute - Catharsis
6. Chastity Belt - Time To Go Home
7. Joanna Gruesome - Peanut Butter
8. Viet Cong - Viet Cong
9. The Membranes - Dark Matter/Dark Energy
10. TRAAMS - Modern Dancing
11. The Telescopes - Hidden Fields
12. The Pop Group - Citizen Zombie
13. Loop - Array 1
14. Chain Of Flowers - Chain Of Flowers
15. Follakzoid - III
16. Menace Beach - Ratworld
17. Protomartyr - The Agent Intellect
18. Nots - We Are Nots
19. Sun Kil Moon - Univeresal Themes
20. The Fall - Sub Lingual Tablet
http://www.isolationrecords.co.uk/2015.html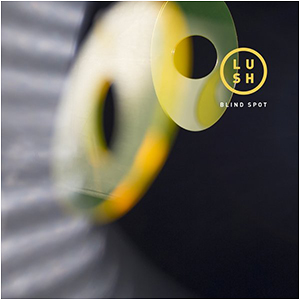 Lush
Blind Spot
Edamame
15th April 2016
Well, it was fun while it lasted and thankfully something tangible emerged from the brief Lush reunion. It only took three seconds of lead track 'Out Of Control' to see that Lush had not changed, the song sounding like a cross between
Spooky
's 'Covert' and 'Monochrome' and definitely falling into the realm of the band's more melancholic moments.
Emma Anderson's music rises and falls in a pleasing familiar pattern while Miki Berenyi's vocals mirror the ebb and flow without ever over-stretching. The classic Lush chimes are so familiar you would swear this was a track from an early album you just couldn't place and that is no bad thing. Lush may not have moved on over the decades, but did we really want them to? Sad, weary, observant and prettily cutting, it seems Lush are enjoying middle age as much as they enjoyed their youth. It's all so sad.



50. Less Win - Trust
49. Slowcoaches - Nothing Gives
48. De Montevert - De Montevert
47. Whyte Horses - Pop Or Not
46. Gauche - Getting Away With Gauche
45. Mitski - Puberty 2
44. Cavern Of Anti-Matter - Void Beats/Invocation Trex
43. Yeesh - Confirmation Bias
42. Culture Abuse - Peach
41. Primal Scream - Chaosmosis
40. City Yelps - City Yelps Half Hour
39. Mark Kozalek - Jesu/Sun Kil Moon
38. Mothers - It Hurts Until It Doesn't
37. School of Seven Bells - SVIIB
36. Exploded View - Exploded View
35. Bayonne - Primitives
34. Pears - Green Star
33. Happy Accidents - You Might Be Right
32. Martha - Blisters In The Pit Of My Heart
31. Cold Pumas - The Hanging Valley
30. Pinkshinyultrablast - Grandfeathered
29. Death Pedals - Meat House
28. The Perfect English Weather - Isobar Blues
27. Skinny Girl Diet - Heavy Flow
26. Spectres - Dead
25. The Duke Spirit - Kin
24. David Bowie - Blackstar
23. The Membranes - Inner Space / Outer Space
22. Nick Cave - Skeleton Tree
21. Suuns - Hold/Still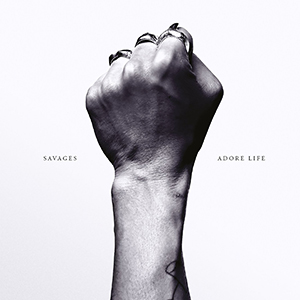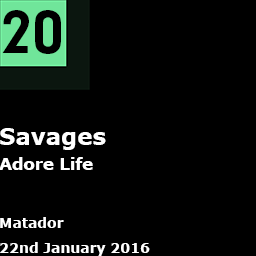 Having waited an age for a second album, Savages finally produced, though Adore Life bears the hallmark of a group eager to get new recordings out without perhaps taking the time to thoroughly explore the boundaries of the realm of possibility. The collection is a punchy one, more capturing the live essence of Savages than embracing the spirit of exploration that helped infuse Silence Yourself with such delightful subtleties. It is almost brutal in its attack and, despite dropping in a couple of slower moments, the pressure is unremitting. Soundwise, much of Adore Life could have come from mid-period Banshees, though Savages always wear fewer disguises and perhaps lack some guile. The guitars never fully take charge, leaving the voice dominant, while the drums lead the assault rather than dance around it. The bass is the highlight here, laid down in rumbustious patterns. It's a very good record but our expectations are high. Savages should be making great ones.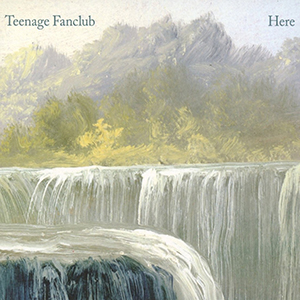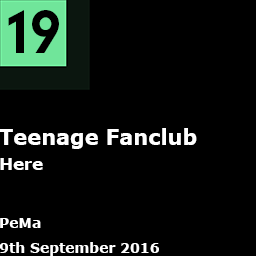 How do they do it? Perhaps the secret is the simplicity. Teenage Fanclub don't wallow in the dark recesses of the mind, but focus on love, life and the beauty that surrounds us all, spurning speculation and semantics in the pursuit of evident truths. And the music they fashion is almost cleansing as though the band has easy access to the fountain of life and are seeking to imbue all with its silvery promises. Let yourself be immersed and the barbs of life will slip away, almost unnoticed. Here is a beautiful creation full of magical moments such as the grating outro to 'I Have Nothing More To Say', the uplifting horns in the luminescent 'The First Sight', and the fuzzy solo in the gorgeous 'It's A Sign'. Yet there is so much more to revel in than these joyous snapshots. The only shame is that this is Teenage Fanclub's first album in six years and only their second in eleven. How many more glorious songs have been lost in the passage of time? Life is short, so get your fingers out while we ponder whether these albums should be listed by UNESCO. Radiant.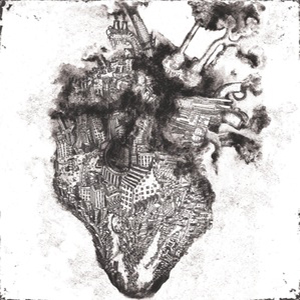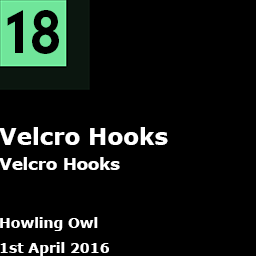 We haven't heard from Velcro Hooks for some time, but it only takes one listen to discover that the band pleasingly have not moved on to pastures new and are still writing wonderfully twisted guitar pop songs with more than a hint of Pixies in them, seasoned with mild scrapings of Mary Chain moments and flakes from a number of obscure and damaged sixties psychedelic outfits. The album opens beautifully with the screeching and whistling 'Leaves', gently sung to an intense backdrop of guitar noise which builds nicely, if predictably, though sometimes the accepted path is the correct one to follow. However, many paths are trod here before the album concludes and though some are challenging and break new ground, a few are more worn. That said, there are far more highs than lows here and if Velcro Hooks were not so blatant about some of their influences and stuck to the challenging routes, they could well be unstoppable.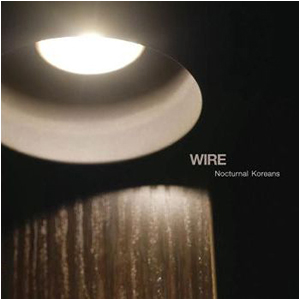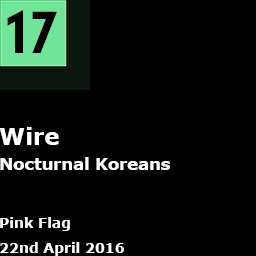 Such was the impact of Wire's 2015 self-titled album, the band were wise to follow it up quickly with a new eight-track collection. Nocturnal Koreans only serves to underline that the post-punk veterans are in a rich vein of form and making some of the most impressive and important music of their careers. It is a collection of songs that failed to make it on to the previous landmark album, not through their lack of quality, but because the band have a refined sense of what songs fit into which places; the tracks on Wire lent themselves to live performance whilst these ones are studio creations where no boundaries are set in enhancing the basic sound. To the layman, the difference is not always immense. This is not Wire with knobs and whistles; the eight songs are not far detached from their simpler predecessors but they do embrace more experimentation which is far from alien territory for this band, and far from unwieldy in their hands. Wire at their best are almost untouchable.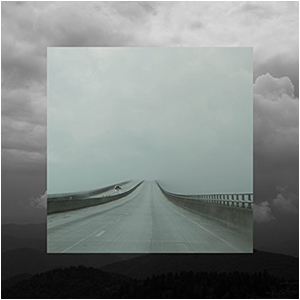 Going Going is a pleasingly heavy beast: twenty tracks over seventy-seven minutes of multi-faceted music that clearly shows the band not falling into the trap of creating songs simply to fill the length of a CD, but offering up something weighty and different, with very little running spare. With a ton of film shot on a trip to the States, the music on this album was built around the pictures, leading to a disparate but connected collection, full of both experimentation and nods to history. These are Weddoes songs that leap out with joyous, bounding energy as Going Going touches on all eras of Wedding Present past. There is plenty of the controlled menace first encountered on Seamonsters, earlier freneticism with chopping and bubbling guitars, and some of Gedge's most touching lyrics to date. In the band's litany of heartbreak, there has seldom been a song as affecting as 'Bear', and seldom one better sung. One of the band's best offerings to date. Terrific.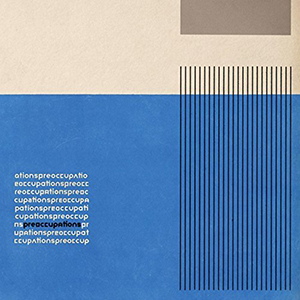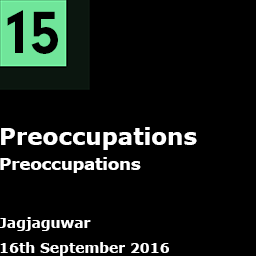 Having taken all manner of grief for their previous name, Calgary four-piece Viet Cong announced earlier last year they would henceforth be known as Preoccupations, giving the band the rare opportunity of releasing consecutive eponymous albums under two different names. This latest offering, an almost-perfectly classical nine-tracks over thirty-eight minutes, does show a marked change from Viet Cong in that it is less spiky, dissonant and piecemeal, though the band's sound remains solidly in the post-punk field, full of stuttering guitars and gloomy synths. Indeed, this less frenetic collection serves to focus the band's sound into something altogether more dense and taut; there is a powerful darkness here that remains unbroken by any light, which is fitting given the subject of the songs, the all one-word titles revealing the plot: 'Anxiety', 'Monotony', 'Degraded', 'Forbidden'. An exceptional album that plays with your mind as it unfurls: thrilling, inventive and moving. It's a beautiful thing.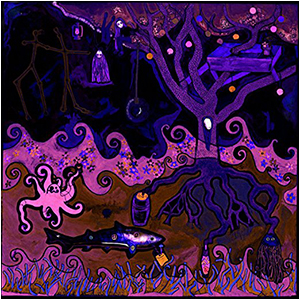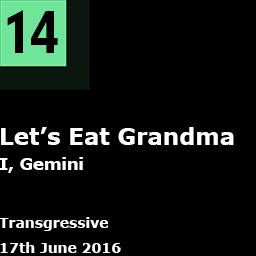 We love surprises and this debut album from Rosa Walton and Jenny Hollingworth, two multi-instrumentalist 17-year-olds from Norwich, appeared to arrive out of nowhere and has so few contemporary reference points it can't fail to leave you scratching your head in pleasant bewilderment. The duo's own epithet of 'psychedelic sludge-pop' describes the music as well as any other label could, though it would be difficult for mere words to capture what is on offer here. There is brave experimentation in both the music and the vocals, the latter used mainly for sound effect rather than to convey a message, often overlapping and colliding rather than harmonising, but sometimes combining prettily to create unusual depth and feeling. There's moments here reminiscent of Cranes, Cocteau Twins or Danielle Dax caught in some fairground acid nightmare and if that doesn't capture your imagination, nothing will. Remarkable.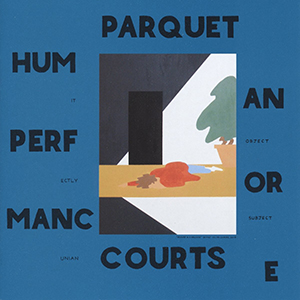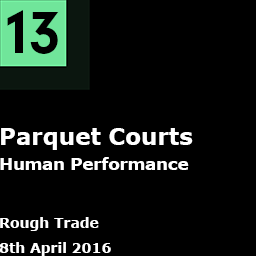 Five albums in five years is a pretty good return, and Human Performance sees Parquet Courts at their most convincing yet, proving that there is still much to be taken from the more straightforward rock end of the alternative spectrum. This is a better produced offering from the band whose previous recordings have often been hampered by their DIY ethics; perhaps this is the influence of Rough Trade who have now taken the band on board, but it enables the listener to focus more fully on the songs. It's a significant departure from 2015's abrasive Monastic Living and features songs from all of the band's members, making it a supreme collective effort that certainly reaps dividends. Singer Andrew Savage is as unsettled as he is wordy and the lyrics are personal, political and astute. All life is in here as Parquet Courts lay themselves bare and it is impressive to behold.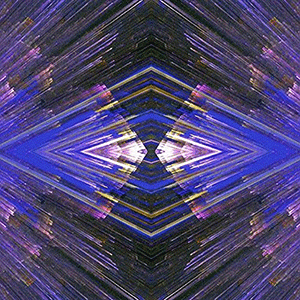 It is a surprise to discover how immaculately measured Songs About Drowning is; these songs are crafted and considered with every note and beat in its correct place. At times this lends an orchestral air and the whole is imbued with a seriousness and deep intent shorn of the pace and wild excitement of much of the band's earlier work. This is trial by sound where the prosecution leaves no stone unturned in its examination of your worth. It can be unsettling and unnerving but is ultimately rewarding. The band and producer Jim Barr have captured an intriguing sound. It is almost as if every element of the music exists on its own plane and barely deigns to touch. You can pick out every note of the bass, every flick of the drums, every stab at a string and every sung word as if it lives in isolation, yet laid together they make an unsettling whole, framed in disturbing verse: "I dream inland there is a place / But see no place that it can be / So it's into the river for me." A powerful record, and all the more so for the buried brittleness that is hidden in its depths. Break or be broken ... Scary.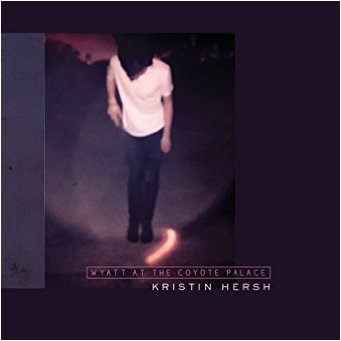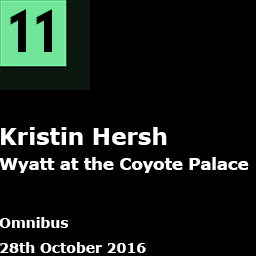 The first solo album in six years from Kristin Hersh offers up a mammoth twenty-four tracks over two albums and comes complete with an accompanying book, adding context to the meaning of the songs as well as the lyrics. It is a period of time that has been traumatic in the singer's life, one she describes as 'the on fire underwater years', and few singers have ever come close to the power of Hersh when she bares her soul. It is interesting to see how far the singer has come since her first voice and acoustic solo recordings, as here we have fully formed songs, with all of the instruments played by Hersh herself, and these are given added depth by experimental layers of sound that add complexity to deceptively simply sung messages. Hersh's voice is deeper now, capable of dripping sadness, yet still able to rip open the heavens when she stretches herself. This collection is moving, inspiring and helplessly addictive, confirming Kristin Hersh as a writer and player of consummate power and importance.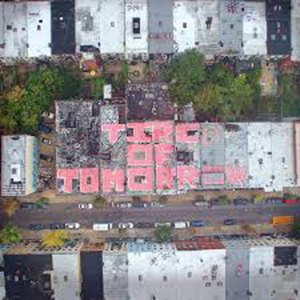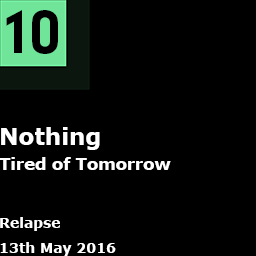 Tired Of Tomorrow flows very much in the same vein as its predecessor, swathed as it is with shoegaze soundscapes and underscored with an injection of partly concealed menace. It's a pretty thing, a gentle grower, that at times has you drifting along without a care in the world and at others has you clenching your fists in affirmation. Crowned by the title track, a ballad whispered to piano and strings, Nicky Palermo's tales are resolutely downbeat, but infused with sadness and acceptance rather than violence and protest. Beautifully framed, his words become dark poetry, at times moving, "Sifting through decay, rejoice if we are allied. But our everything is empty on the inside". It's nice stuff in a collection filled with highlights such as the splendid prog solo in the brittle 'The Dead Are Dumb', the shimmering layers of 'Curse Of The Sun', and the gently tumbling cascades of 'Our Plague'. Musically it is more refined than its predecessor, carefully pieced together and undoubtedly more impressive. And that is no mean feat when Guilty Of Everything was pretty much a triumph.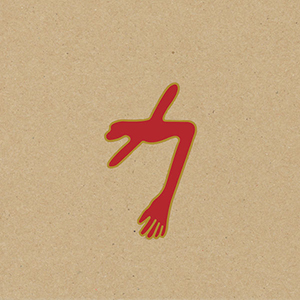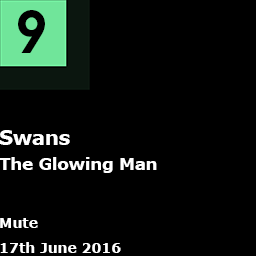 Michael Gira's reinvention of Swans over the past six years has been little short of triumphant as his band has redefined the boundaries of exactly what can be achieved on stage and record. He pared away the band's jagged edges and carefully constructed a group of musicians capable of building monoliths of sound: vast, unmovable and eerily beautiful. To listen live or to the records is to be dwarfed by the immensity of the music on offer; an almost baptismal experience of immersion taken in the hope of glimpsing something beyond the realms of natural understanding. Having felt the band had achieved all of his aims, it was announced that The Glowing Man would be the last collection from Swans' current incarnation. Clocking in at just under two hours with only eight tracks, this is a hefty beast of a record that is more than a fitting final chapter. What awaits in the future with different musicians we can only guess, but could anything be as painstakingly built and inexorably crushing as this?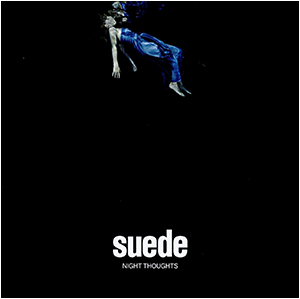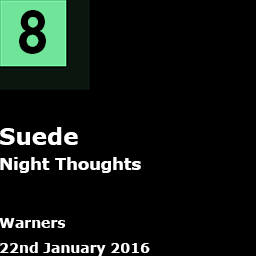 It's three years since Suede emerged from an eleven-year hiatus to release Bloodsports, and where that album attempted to build bridges between mid-period Suede and the newly resurrected band, Night Thoughts needs no such affirmation. One accomplished album and a series of outstanding gigs re-established the band's footing and with Night Thoughts Suede obviously feel confident enough to stride away in a different direction, ambitiously setting new limits as to what can be achieved. The band perform with considerable style, and as the first incarnation set the bar impossibly high with their second album, there seems little doubt new Suede had half an eye on Dog Man Star when they set to work on this record. There is a genuine and respectful attempt here to match that landmark release in both scope and elegance. Indeed, Night Thoughts is more a single piece of work than a collection of songs; its narrative flows smoothly throughout, making this undoubtedly a concept album on a grandiose scale. Impressive.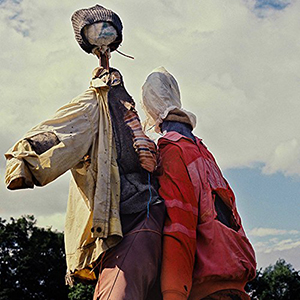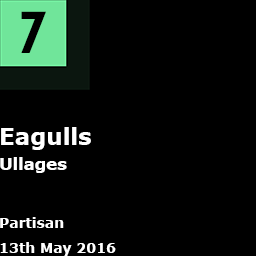 Eagulls' sound has mellowed a little over the past few years and their second album Ullages marks a definite move forward from the band's impressive self-titled debut of 2014. George Mitchell's vocals are a little more defined, but retain their early Bob Smith quality, slightly stretched and pleading, reaching out for answers that never come, leaving only bewilderment and frustration. "Each night's like the needle slipped, does existence have much more than this?", "Is our future grey as the slabs on our drives?", "Why don't I ever stop and start to think?" – there are more questions than answers for Eagulls in the bleak world they inhabit, the desolate cityscapes mirroring their inner desolation and helplessness. If anything, there is less hope on Ullages than on Eagulls, the tone is more resigned, the music less of an attack and more of a blurred soundscape. Emptiness, waste, ullage, Eagulls ... the great chain of being for twenty-first century. Top stuff.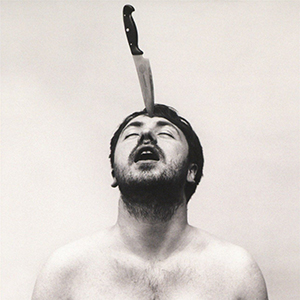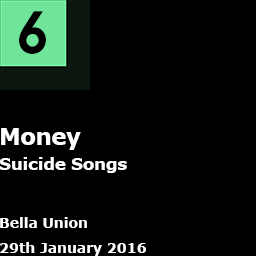 Money's 2013 album, The Shadow of Heaven, was a desolately romantic affair infused with a hymn-like quality. January 2016's Suicide Songs has a similar resonance, yet leans more folkily into its theme, which appears to be redemption through destruction, a modern Doorsian experimentation in breaking on through, yet more delicately done, with poetic grace. "I wanted the album to sound like it was 'coming from death' which is where these songs emerged," stated singer Jamie Lee, and though he pretty much achieves this aim through a series of unremittingly dark lyrics, it would be difficult not to be uplifted by the radiance of the music on offer. The band's work is effortlessly elegant, embellished by strings and horns, and the soundtrack created is sublime, magnificently framing Lee's vocals which are stark and beautiful. The man has a fantastic voice, achingly expressive, and this collection is a consummate piece of art which makes you want to run into town and buy a frame for it.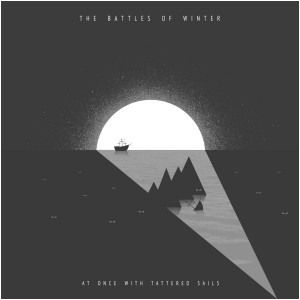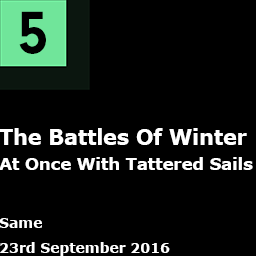 The Battles Of Winter take a refined approach to their art, providing their songs with an epic scope: lyrics fat with imagery beautifully enunciated over powerful and cutting musical backdrops. There's a sensitivity here that is warming, and at times quite beautiful, yet the panoramas created are huge in scope, drawing you into a world of seascapes, ships and lemon groves; familiar sights but with indeterminate purpose, like following a treasure map without an X. For The Battles Of Winter are not overtly explicit and prefer to let their listeners shape their own thoughts from their songs. There's no escaping the waves of hope and loss that lap at its shore and an overriding sense of looming danger, but the concept behind this album is in the listener's imagination and it's a remarkable achievement as this sounds like a concept album to its very bones. The musicianship is startling, the songs are decorated with delightful guitars building layered melodies, sonorous and resonant, with vocalist Alastair Gale working within finely created boundaries rather than setting his own limits as he did on the first album. It makes for a less angular sound, with a greater depth, and though there are no songs that scream out at you as obvious standouts, this collection is a complete whole, round pegs in round holes, and eminently satisfying.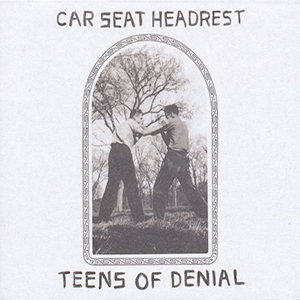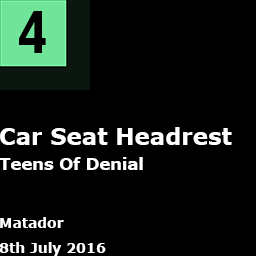 Will Toledo has a massive collection of DIY solo albums behind him, yet the young singer moved into a different league with Teens Of Denial, his first 'proper' album recorded in a decent studio with a full band behind him. As with Parquet Courts, the collection is massively helped by good production and mastering, yet still retains the primitive appeal of previous outings. This is due in no small part to Toledo's experimental soul and lyrical dexterity. It would easy here to quote a hundred lyrics from the album, amazingly stretching to seventy minutes over twelve songs. Safe to say, there will be couplets you will hold on to for years to come, yet enjoy most in their natural environment where guitars crash and soar as songs ebb and flow, bob and weave, and sneak in to poke you in the ribs. There may be plenty of self-analysis and doubt here but it is framed in such an attractive way that only a hard person would not fall for its charms.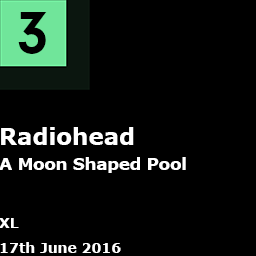 Five years on from their last outing, The King Of Limbs, Radiohead rather blew us away with 'Burn The Witch', all racheting strings and persistence, the single offering from A Moon Shaped Pool. Pleasingly the taster proved not to be an isolated gem as the album turned out to be one of the band's most open, yet gloriously addictive, records to date. Relatively simple in its approach, the music rarely gets above hobbling pace, but if Radiohead are limping, it has merely given them more time to pick their steps, no two of which are the same. While maturity can often be used as a critical cudgel, it can also be uplifting to see a band of experience, wit and talent using their knowledge to good effect and so little is wasted here, it is positively frightening. This is an embracing whole, radiating a warmth you would generally not associate with the band, and while the songs don't pluck at your soul, they certainly grasp you by the hand. It is their most human album; although the band revel in obfuscation, this one feels personal. And it would be difficult not to embrace it as such. Warming.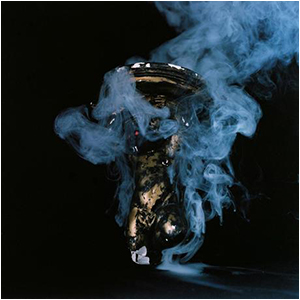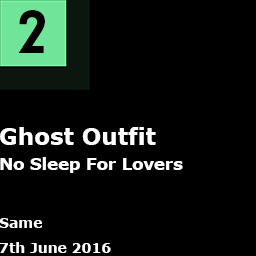 No Sleep For Lovers is a very different animal from its predecessor. It still sounds like Ghost Outfit, and the destructive circle of life remains at its heart, but this collection has even more contrast, diving to greater depths and scaling even dizzier heights. It hurts even more, it pleads with you and spits out its frustration. "It's like we're lovers...and there's just no sleep" they sing, two musicians thrown together with a common purpose as the world works against them and seeks to pull them apart; a strained relationship reeling in confusion. But in pain lies beauty and that is secret of this record's success. The band wanted to capture the falling of a star, their own destruction, and you witness innocence and youth becoming bitter self-indulgence, and arrogance coming crashing down. This is Ghost Outfit naked, painfully beautiful, laying bare nerves. And the melodies that are never far below the surface make you well up as the gorgeous moments of lightness contrast so vividly with the blackness all around that they appear to burst in explosions of light. This album is a joy.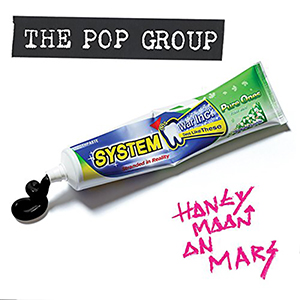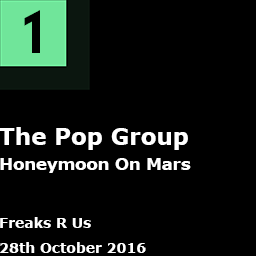 We will never forget that it was hearing The Pop Group that first blew our minds open to the possibilities of obliterating musical boundaries. We welcomed their recent return, not only because it gave us the chance finally to capture them live, but because they were keen to carry on where they left off, stripping music to its bones and rebuilding it wrong. 2015's Citizen Zombie was a fine affair, full of the band's trademark broken funk, but with Honeymoon On Mars they finally achieved everything they set out to be. Back in the studio with the legendary Dennis Bovell, the producer has woven his magic to process a collection that is both dislocated, other-worldly and dubbed to buggery. On its release Honeymoon On Mars was criticised for being unfocused and lacking bite but this entirely misses the point. Described by Mark Stewart as "a hypersonic journey into a dystopian future full of alien encounters and sci-fi lullabies", this record soars through galaxies, spilling its message of peace and hope, while shape-shifting through all styles and structures. Focus is the last thing it needs; this is galactic spillage of the most infectious kind. Absolutely fucking marvellous.